Homer spoils inning for Collmenter, finale for D-backs
Two-out shot caps four-run frame; Arizona stifled by Beckett and Co.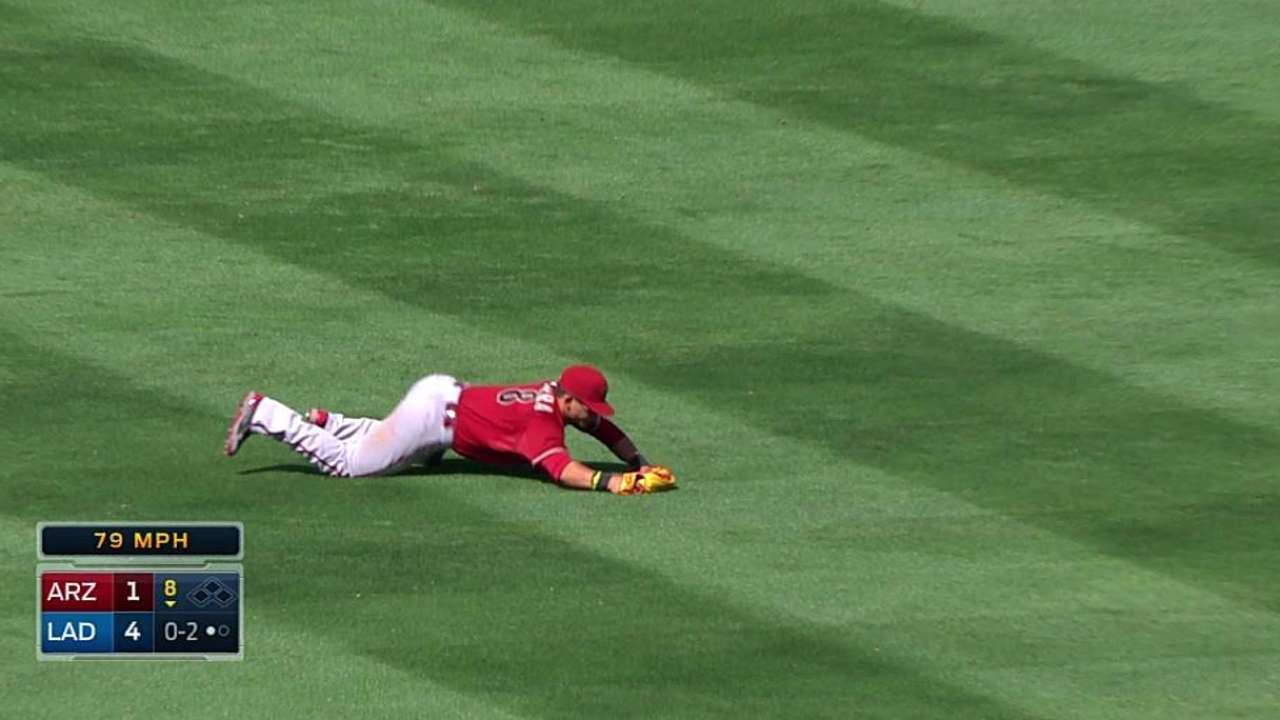 LOS ANGELES -- Adrian Gonzalez absolutely owned the D-backs when the Dodgers visited Arizona last weekend.
So with a man on and first base open with two outs in the sixth inning Sunday afternoon, D-backs manager Kirk Gibson decided to intentionally walk Gonzalez.
Unfortunately for the D-backs, the next hitter -- Yasiel Puig -- blasted a three-run homer to left-center off Josh Collmenter, and the Dodgers went on to a 4-1 win at Dodger Stadium.
"I think we did the right thing there," Gibson said. "We decided to put him on and go for Puig. Just thought that if we made better pitches, we had a better chance of getting him out. Also, you have the forceout at second base if you need it, too. He made us pay for it."
In the three-game series, Gonzalez was 7-for-14 with a double, three homers and 10 RBIs. In the first two games of this series, the first baseman was 3-for-8, and he had doubled earlier on Sunday.
"I think you have to the way Adrian is swinging and what he did to them last weekend," Dodgers manager Don Mattingly said of the intentional walk. "I think you have to. It's the danger of walking a guy, but if you do it for the right reason, and I think Gibby would do it every time. The danger is extra motivation, but it's really the right move."
Puig even defended the strategy.
"He did what he had to do," Puig said of Gibson. "Adrian is left-handed and a right-handed pitcher, the manager made the right call on that one."
But he did hit a home run, Puig was told.
"I prepared well for that at-bat," he said. "I guess if I hit a home run, it was the wrong decision."
But, of course, it wasn't, and Collmenter knew that it ultimately came down to the location of the pitch.
"I've had some success against him," Collmenter said of Puig. "We were going back in. It was a pitch I needed to make a couple of inches off the plate in, and instead, it came back over the plate a little bit. That's really the only pitch I'd like back out of the whole thing. I felt really good, even going into that at-bat against Puig. We had a game plan as to what we wanted to do, and just lack of execution on my part."
The homer sullied a nice outing by Collmenter, who had held the Dodgers to just two hits while tossing five scoreless innings.
After Collmenter fanned pitcher Jamey Wright to start the sixth, Dee Gordon singled to right and Carl Crawford followed with an RBI triple to right on a pitch that was low and outside. Hanley Ramirez popped out for the second out of the inning, and that's when the D-backs decided to walk Gonzalez.
Dodgers starter Josh Beckett allowed just one hit through five innings before departing after throwing 83 pitches.
"Sharp, real sharp," D-backs outfielder Mark Trumbo said of Beckett. "It was a real quality outing for him. He located really well, he changed speeds, his curveball was working. His fastball played really well."
The D-backs struck out 14 times Sunday, and 32 times total over the three-game series.
"Give some credit to the Dodger pitchers, but I think we're better than that," Gibson said.
The D-backs thought the tide might be turning on their season when they won the opening game of the series, but two losses on consecutive days have them reeling again, as they've dropped eight of nine.
"We were hoping it did too," Trumbo said of Friday's win turning things around. "But it didn't happen. You can get as frustrated as you want to get. You can also control it and keep moving forward. It's just a point in time where it's not going our way. That's just all there is to it."
The D-backs now head to Chicago to open up a four-game series with the Cubs.
"We've got to rebound, regroup," Gibson said. "The Dodgers have had our number and have beat us seven out of eight times. We've got to move on to the Cubs and play better than we have here."
Steve Gilbert is a reporter for MLB.com. Read his blog, Inside the D-backs, and follow him on Twitter @SteveGilbertMLB. This story was not subject to the approval of Major League Baseball or its clubs.