Haniger makes D-backs history with 3-RBI debut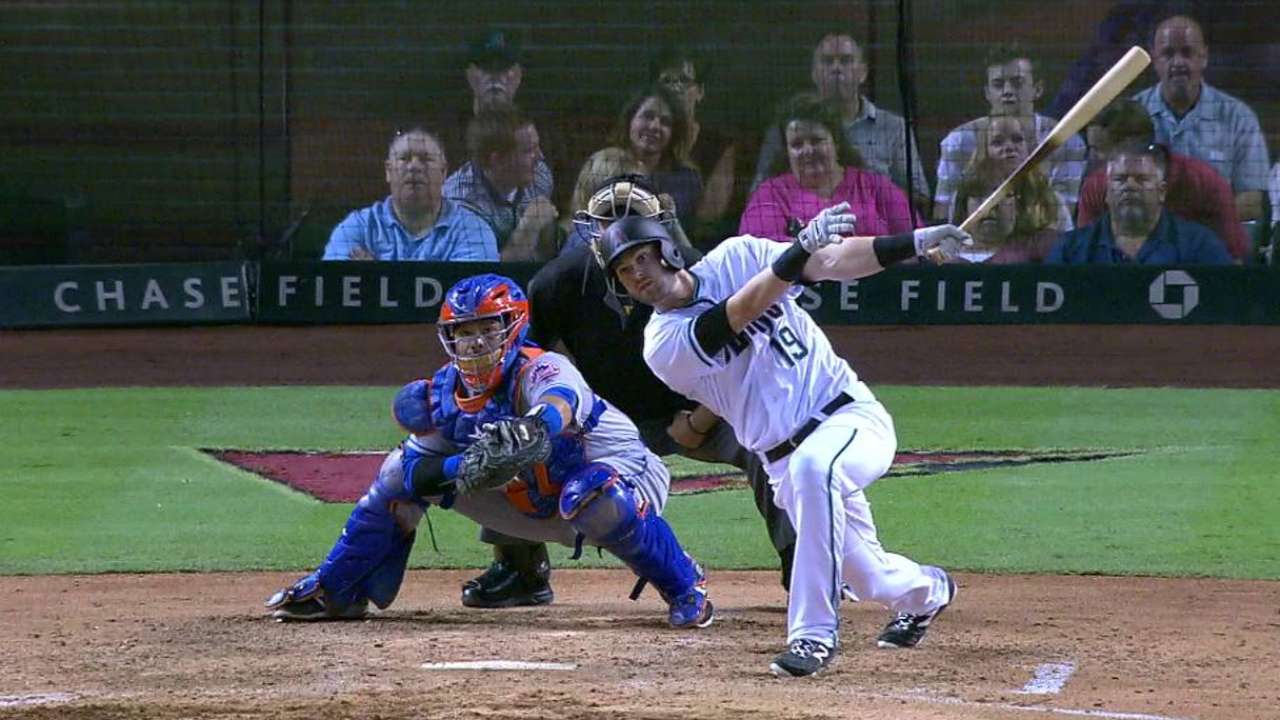 PHOENIX -- Even when Mitch Haniger wasn't on the D-backs' 40-man roster at the beginning of the year, the 25-year-old outfield prospect still thought he could make it to the Majors this season.
That day came Tuesday. Haniger was recalled from Triple-A Reno, started in left field and batted seventh in a 7-5 loss to the Mets at Chase Field. After striking out and grounding out in his first two at-bats, he tripled in a pair of runs in the sixth for his first career hit, then doubled in another run in the seventh.
"In Minor League Baseball, you see a lot of crazy things happen," said Haniger, ranked by MLB Pipeline as Arizona's No. 25 prospect. "And I've seen a lot of crazy things happen the last couple years, so I definitely saw myself getting up here at some point. I don't think I would be here today if I didn't see myself in a big league uniform in my mind."
Haniger is the first player in franchise history to record a triple as his first career hit. He is also the first D-backs player to drive in three runs in his big league debut.
"He looked good up there, every swing he took he was right on it," manager Chip Hale said. "Just exactly as advertised from [Reno manager] Phil Nevin and everybody in the Minor Leagues. He knows how to play the game."
Haniger was selected by the Brewers in the first round of the 2012 Draft. The D-backs acquired him in 2014 in a trade that sent Gerardo Parra to Milwaukee.
This year, Haniger hit .325 with 24 homers, 32 doubles, and 86 RBIs in 119 games between Double-A Mobile and Triple-A Reno. In Reno, he hit .351 with 19 homers and 56 RBIs in 64 games.
Haniger found out he was being promoted when he was removed in the third inning of Reno's game at Nashville on Monday night. He called his fiancee and his parents, who were in attendance at Chase Field on Tuesday.
For his debut, Haniger drew quite a challenging matchup -- Mets starter Noah Syndergaard. Yet, his first career hit came against the hard-throwing right-hander.
"Just looking for a pitch up to drive with runners on first and third, trying to stay out of a double-play situation, get a ball up," Haniger said. "He threw me a slider, and I got extended pretty good."
Hale said he plans to play Haniger "a lot" as the club gets a chance to see whether he'll factor into next year's roster. Haniger can play all three outfield positions, providing Arizona with some versatility. He will start in center field on Wednesday in the series finale.
"Everything we hear about him is great," Hale said. "I'm just excited to watch him play and see what he's got."
The D-backs optioned outfielder Socrates Brito, their No. 2 prospect, to Triple-A as the corresponding move. Brito hit .185 with two homers and five RBIs in 19 games with Arizona this season.
Jake Rill is a reporter for MLB.com. This story was not subject to the approval of Major League Baseball or its clubs.