D-backs to stick with Greinke-Mathis battery
Lovullo likes pairing, will continue to spread duties behind the plate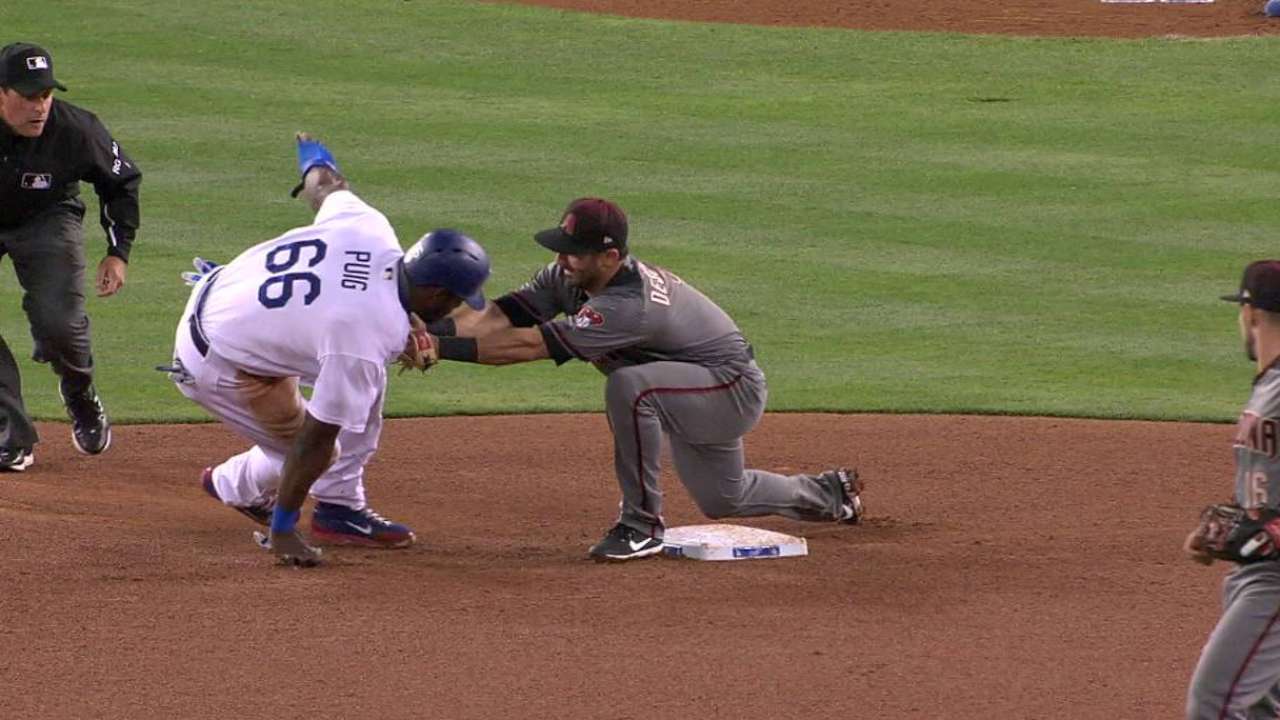 SAN DIEGO -- Jeff Mathis has caught all four of Zack Greinke's starts this year, but as he promised during Spring Training, D-backs manager Torey Lovullo has spread the rest of the playing time around behind the plate without regard to who is on the mound.
Mathis, Chris Iannetta and Chris Herrmann have all caught this year.
"I think that if I'm seeing a certain comfort level or results that are very positive, if it lines up, I will continue to do that," Lovullo said of pairing Greinke with Mathis. "I'm not going to have guys bend over backwards or changing routines or their patterns just to have the matchups. If it works and it lines up, we're far enough out in front of putting lineups together that we're going to stay with that. I think Zack knows and understands that it's not going to be like that all year long."
Offense quieter
During their season-opening homestand the D-backs scored six or more runs in five of the seven games.
In the first nine games of their California road swing, the D-backs have scored six or more runs just once.
It's worth noting that Chase Field is one of the more hitter-friendly parks in the Majors, while San Francisco's AT&T Park, Dodger Stadium and San Diego's Petco Park are some of the most pitcher-friendly environments.
"They are pitchers' parks and whether or not it's had an effect on our hitters, I'm not certain," Lovullo said. "I just know that the offense ebbs and flows during the course of the year. You're going to have some good and bad moments. These guys are pretty gifted. Our guys are expecting to go out and pound the ball every single night and every once in a while it doesn't work out that way. It might be extended for a game or two and I believe in them. I think it's coming."
Steve Gilbert has covered the D-backs for MLB.com since 2001. Follow him on Twitter @SteveGilbertMLB. This story was not subject to the approval of Major League Baseball or its clubs.