Miller to seek third opinion on ailing elbow
D-backs pitcher will have MRI sent to noted orthopedic surgeon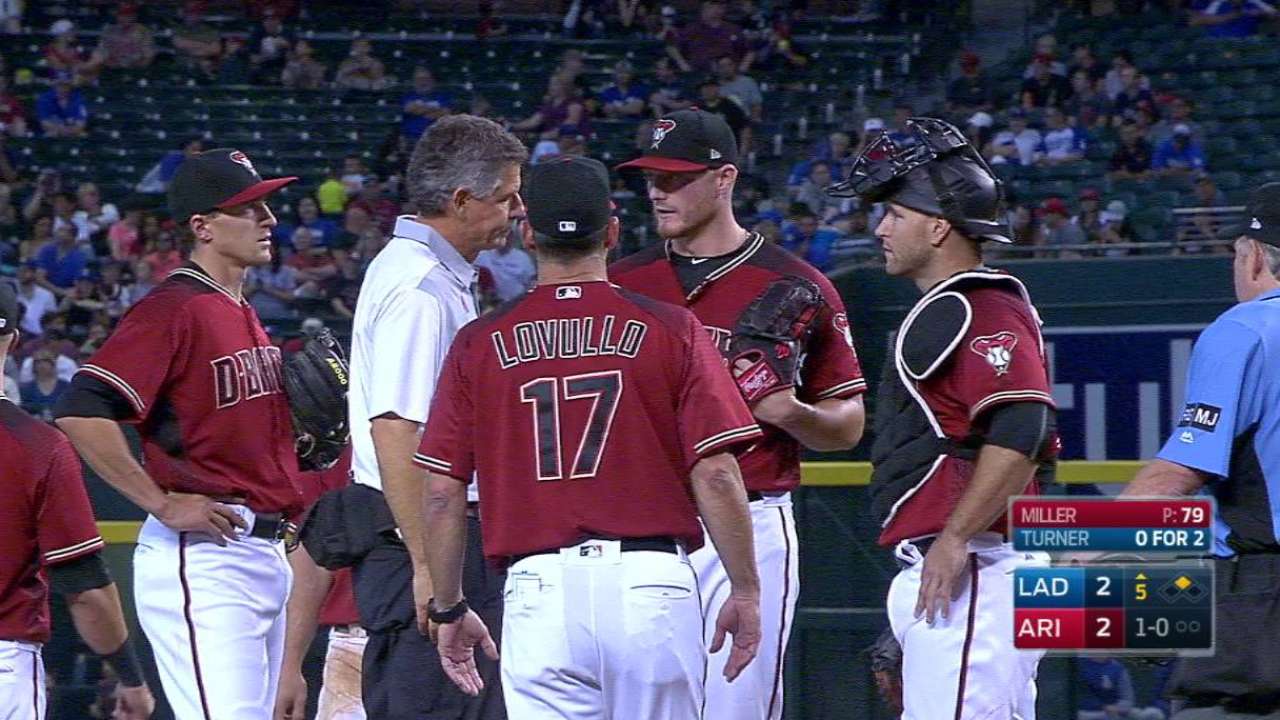 PHOENIX -- D-backs right-hander Shelby Miller will get a third opinion on his elbow from noted orthopedic surgeon, James Andrews, before making a decision as to what his course of treatment will be.
Miller has already been examined by team physician Gary Waslewski as well as Dr. Neal ElAttrache. He will not see Andrews, but rather have his MRI sent to Andrews in Pensacola, Fla.
"Just to get some extra eyes on it and see what he thinks and what his suggestions are and go from there," Miller said before the D-backs fell to the Padres, 8-5, on Wednesday. "Still just waiting to see what the plan is."
Miller left Sunday's game with forearm tightness, which is often an indication of an issue with a ligament in the elbow.
The D-backs placed him on the 10-day disabled list Monday after he was seen by Waslewski, and he flew to see ElAttrache in Los Angeles on Tuesday.
Miller was asked if the doctors had diagnosed him with a tear of the ulnar collateral ligament.
"They see something in there," he said. "They haven't given me specifics yet, exactly what it is or how we're going to handle it or what we're going to do to fix it. We're just going to wait and see everyone's opinion."
Miller said what both Waslewski and ElAttrache told him were "both pretty similar."
Winning is fun
Right-handers Taijuan Walker and Tom Wilhelmsen wanted to add to the atmosphere in the D-backs' clubhouse, so they bought a seven-foot-high basketball hoop and put it in the middle of the room.
"We've got a ping pong table coming, too," Walker said. "We wanted to get some stuff in here so everyone can just be loose and have fun after a win. Just try to keep everyone here to enjoy the wins and do some team bonding."
The players have competed in spirited games of H-O-R-S-E before and after games.
Another addition this year is a disco ball that spins along with music following wins.
"I love that stuff as long as there's a separation and it's the right time and the right moment," D-backs manager Torey Lovullo said. "They work hard and they're very focused. When you win the game, we need to celebrate that moment."
There is also apparently quite a bit of dancing that goes on before the media is allowed in after wins.
"I just know that I see Tom Wilhelmsen dancing a lot and I really enjoy that," Lovullo said. "It's probably one of my favorite things to walk in on. He gets in his own world. I want to say I'm a good dancer, but I'm really not. I like dancing, but I just don't want a lot of people to notice me."
Steve Gilbert is a reporter for MLB.com. Follow him on Twitter @SteveGilbertMLB. This story was not subject to the approval of Major League Baseball or its clubs.