Walker unable to recover from rocky 1st
D-backs starter allows 3 runs to Reds before first out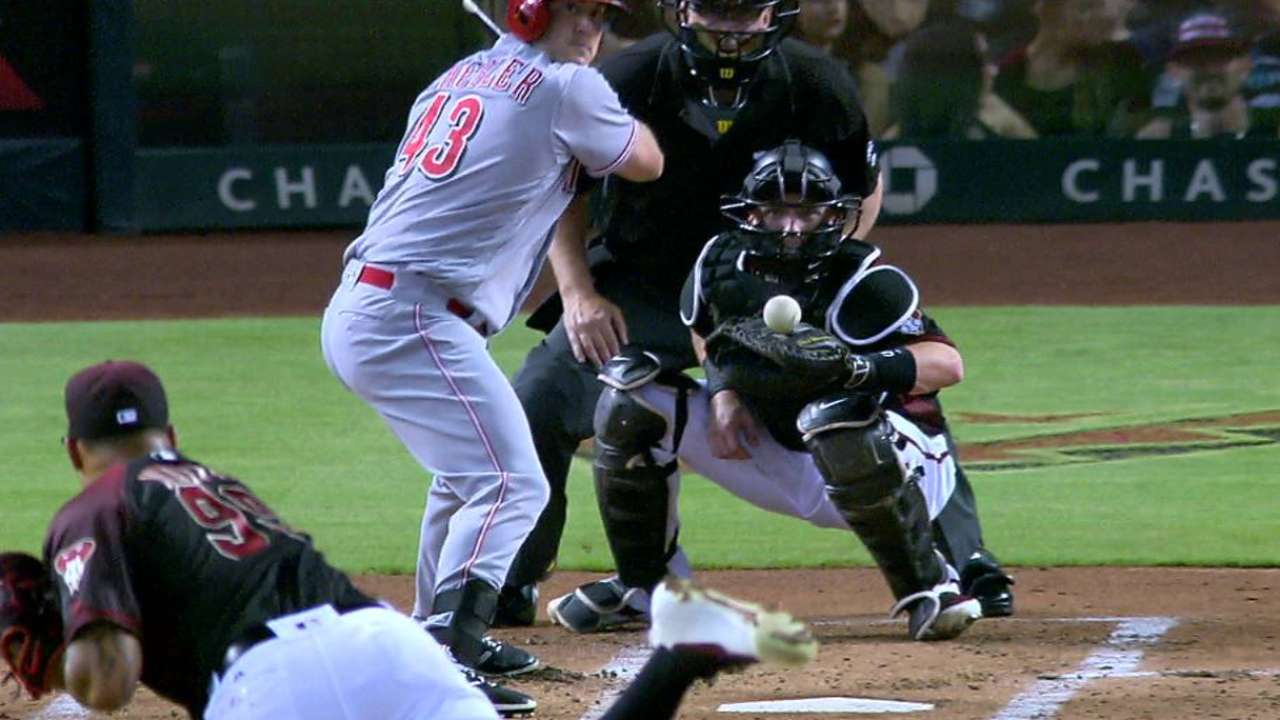 PHOENIX -- The D-backs entered Saturday with the second-best team ERA in the Majors (3.39) and riding a string of quality outings from their starters.
But the Reds jumped on Taijuan Walker early in a 7-0 loss, as Arizona's offense was shut out for just the fourth time this year and for the first time at Chase Field this season.
Walker (6-4, 3.65 ERA) threw five innings and surrendered five runs and five hits while striking out four and walking three. He was hassled by Reds leadoff man Billy Hamilton in the early innings, and Cincinnati piled up three runs before Walker retired a batter.
"Taijuan, I thought, was OK," D-backs manager Torey Lovullo said. "He had some well-pitched moments, and in spurts he was doing a nice job. But I think he fell behind early and we just never got a chance to play catch-up baseball."
Walker has recorded 47 of his 68 strikeouts (69 percent) with his fastball this season, which ranks 11th in the Majors among qualified starters. He got 13 called strikes and four swinging strikes with his heater on Saturday, but it was also put in play 10 times, with Joey Votto and Scooter Gennett each hitting home runs off of the pitch.
Hamilton led off the game by drawing a nine-pitch walk and then proceeded to steal second base before scoring on a Zack Cozart triple. Two pitches later, Votto blasted a two-run homer over the left-field wall.
"I think collectively guys got to some of his better pitches and put the ball in play where they ain't," Votto said.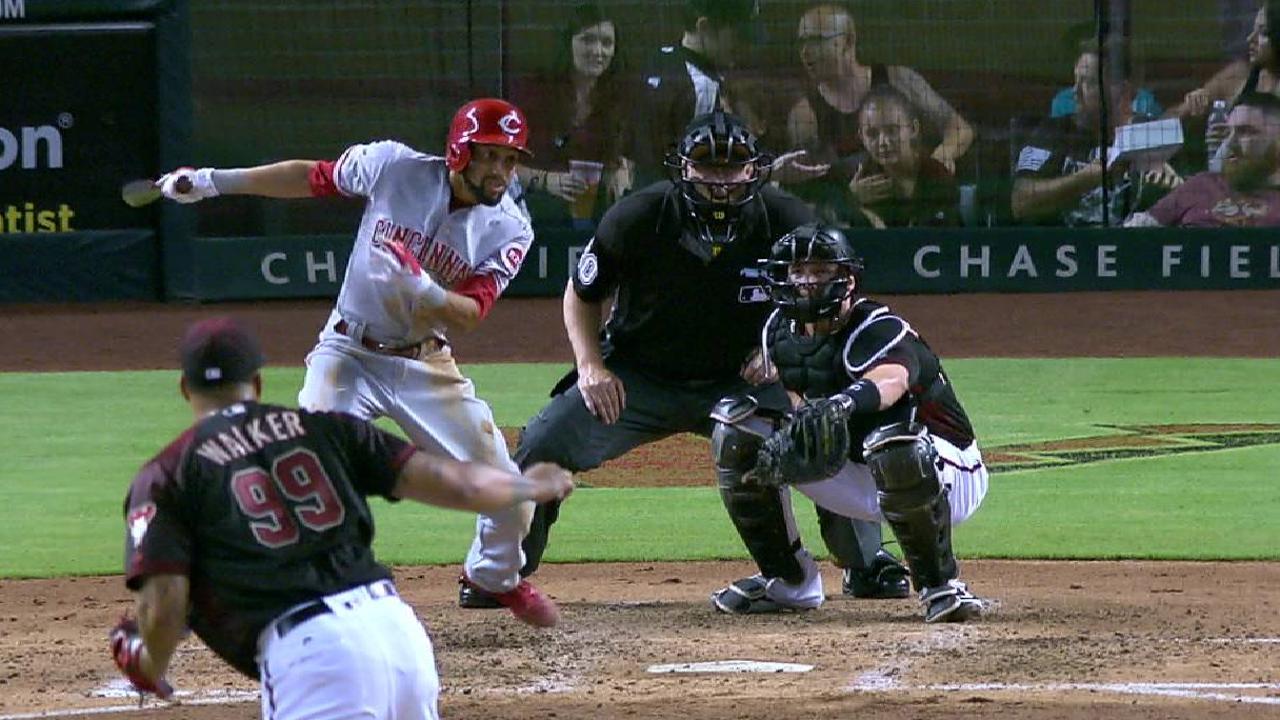 Hamilton continued to hassle the D-backs; he drew another walk in the second, slapped an RBI single in the fourth and swiped second base three times.
"He's fast on the bases," Walker said of Hamilton. "It's one of those things where he can create havoc for a pitcher. If you get the first hitter out of the game and things go differently -- but I just let it sit with me for too long."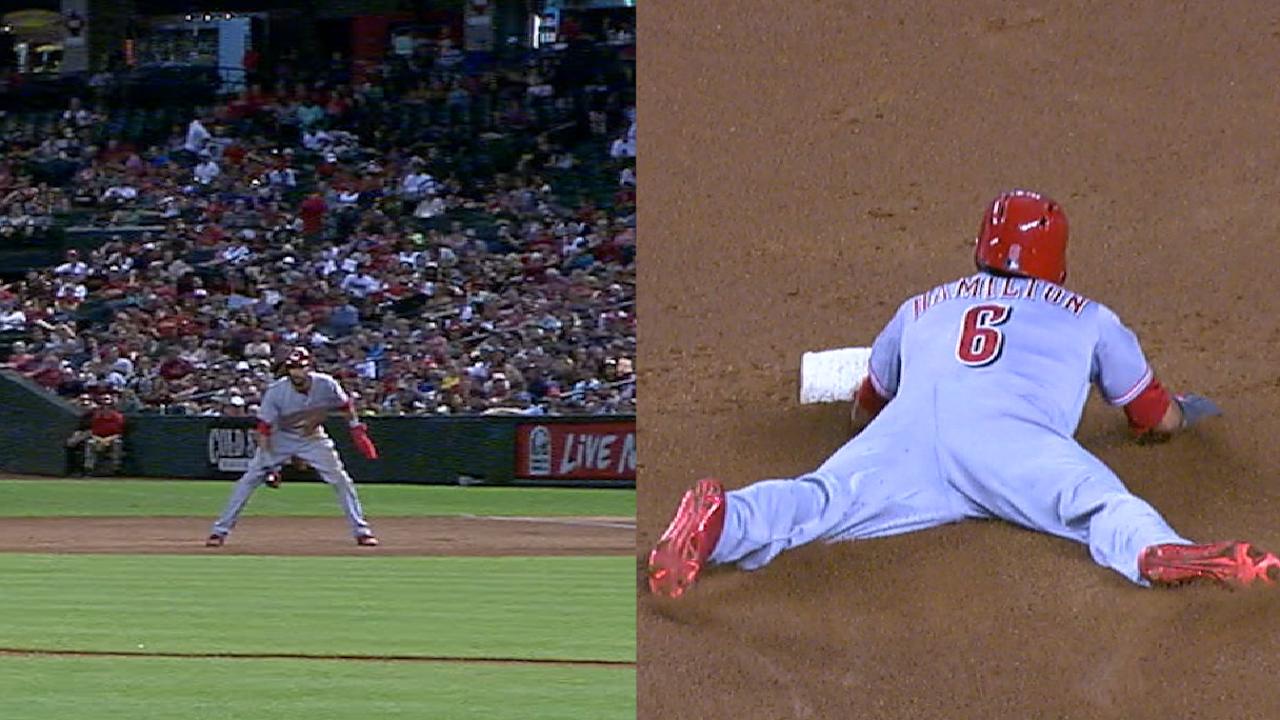 Hamilton leads the Majors with 37 steals on the year.
"It's hard to hold him. I've got to do a better job, but, you know, he steals 40 bags before the All-Star break," Walker said. "He's one of those guys who's kind of tough; I was almost just focusing on the hitter and just trying to get the hitter out."
Jarrid Denney is a reporter for MLB.com. This story was not subject to the approval of Major League Baseball or its clubs.