Lovullo: 'They deserved to win this series'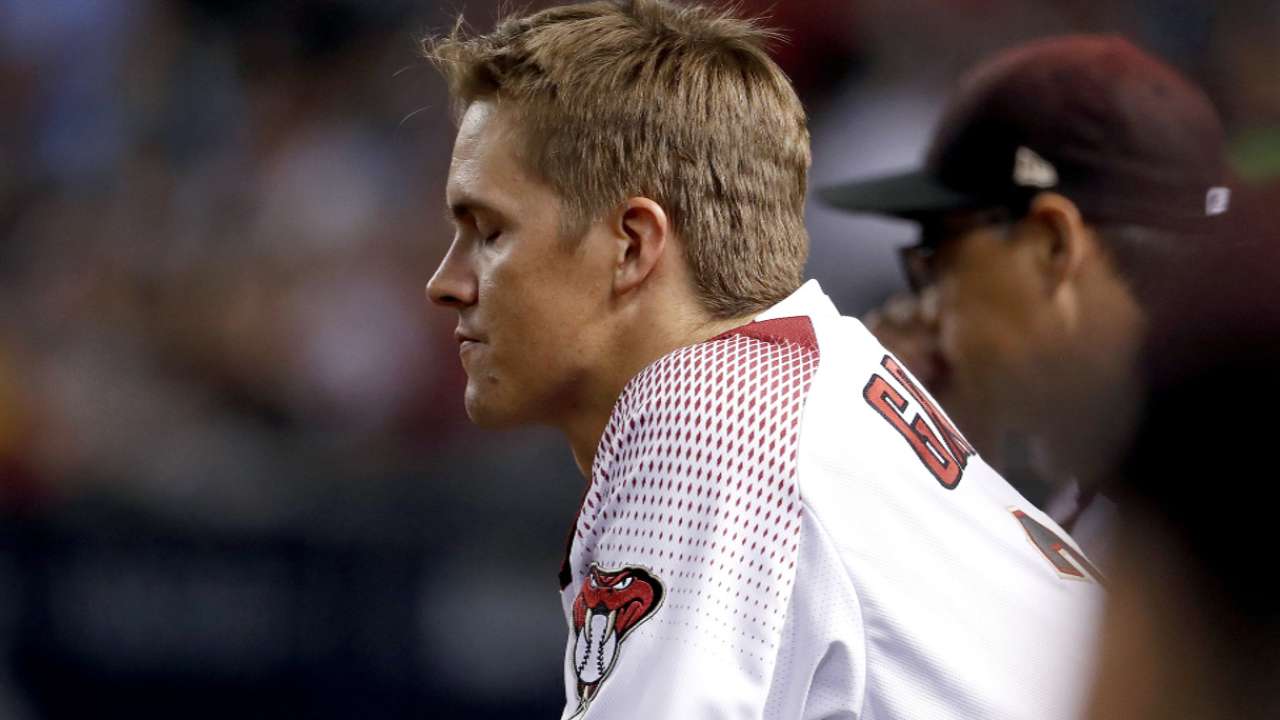 PHOENIX -- Archie Bradley has always ended his season by watching the other team celebrate.
It's not because of some sort of masochistic desire or fear of success, Bradley insists. It's motivation. The bulletin board of material the Arizona super reliever will use to fuel himself will add another loss, as he and the Diamondbacks ran into a Dodgers buzzsaw and fell, 3-1, Monday to secure a sweep in the National League Division Series presented by T-Mobile.
Bradley followed his custom, watching Los Angeles celebrate from the bench.
"As weird as it sounds, you kind of want to watch them celebrate," Bradley said. "I wanted to remember that feeling of losing. I wanted to remember that sting and that burn and the feeling deep down of disappointment, of not winning, of not moving on."
If anyone looked poised to give the Dodgers an early exit from another postseason, it was the D-backs -- one of two National League clubs with a winning record against the best regular-season team in the Majors.
• Greinke's season ends on sour note
But regular-season head-to-head matchups mean little in October. The Dodgers asserted their dominance over their NL West rivals and spoiled the matchup Arizona had been eyeing for months.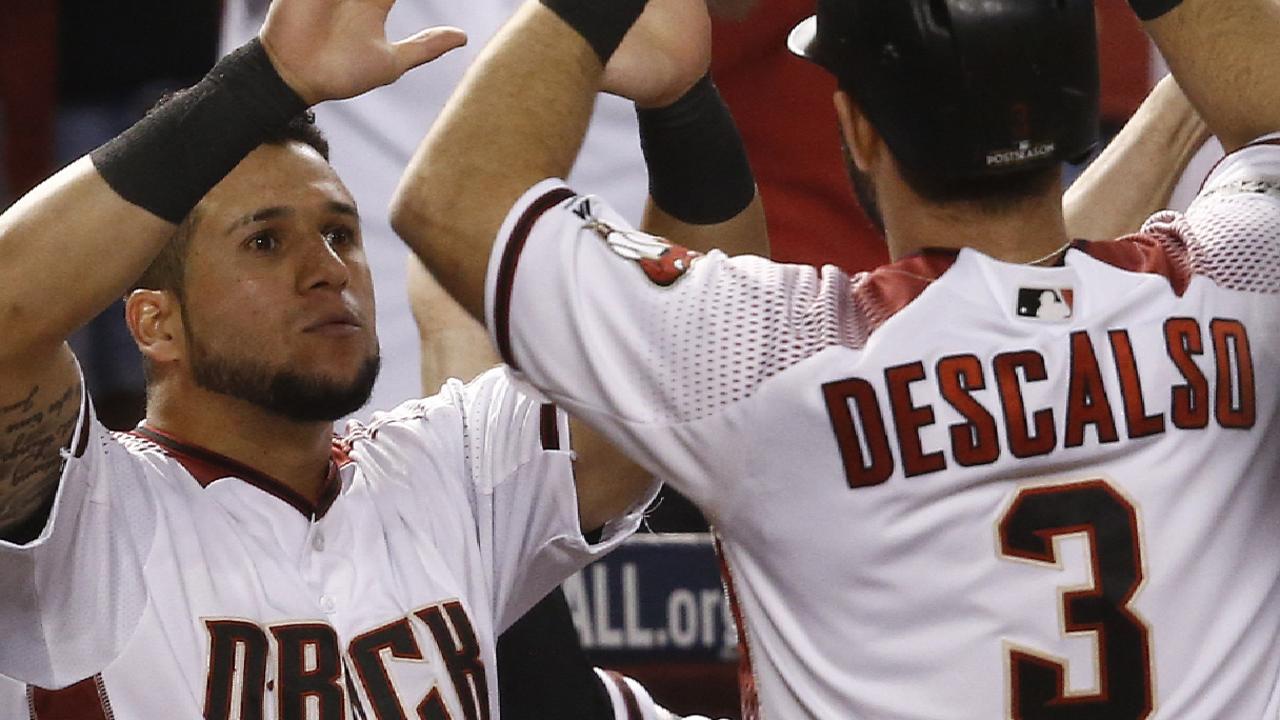 "This is the matchup we wanted," Bradley said. "This is the series we wanted. We just couldn't get it done."
Los Angeles flexed its depth at every stage -- offense, defense, starting pitching, bullpen -- outclassing a young, talented D-backs core that went from 93 losses in 2016 to 93 wins in its first season under manager Torey Lovullo.
Arizona's bats were perplexed in the three games over the Dodgers' battery of arms. Yu Darvish started Monday brilliantly and Kenley Jansen closed it out, with just one runner reaching scoring position in between.
"It wasn't like [Darvish] was just throwing the ball right over the middle of the plate and we were just swinging and missing at it," D-backs right fielder J.D. Martinez said. "He's got electric stuff. On any other team, he's their No. 1.
"Their pitching is pretty good. They match up really well. They were executing a lot of pitches."
The Dodgers in turn waited out Cy Young Award candidate Zack Greinke, allowing the right-hander to pepper pitch after pitch outside of the zone without biting and forcing him to throw 29 pitches in the first inning. Los Angeles bit back, as Cody Bellinger and Austin Barnes knocked pitches 98 and 105 out of the ballpark.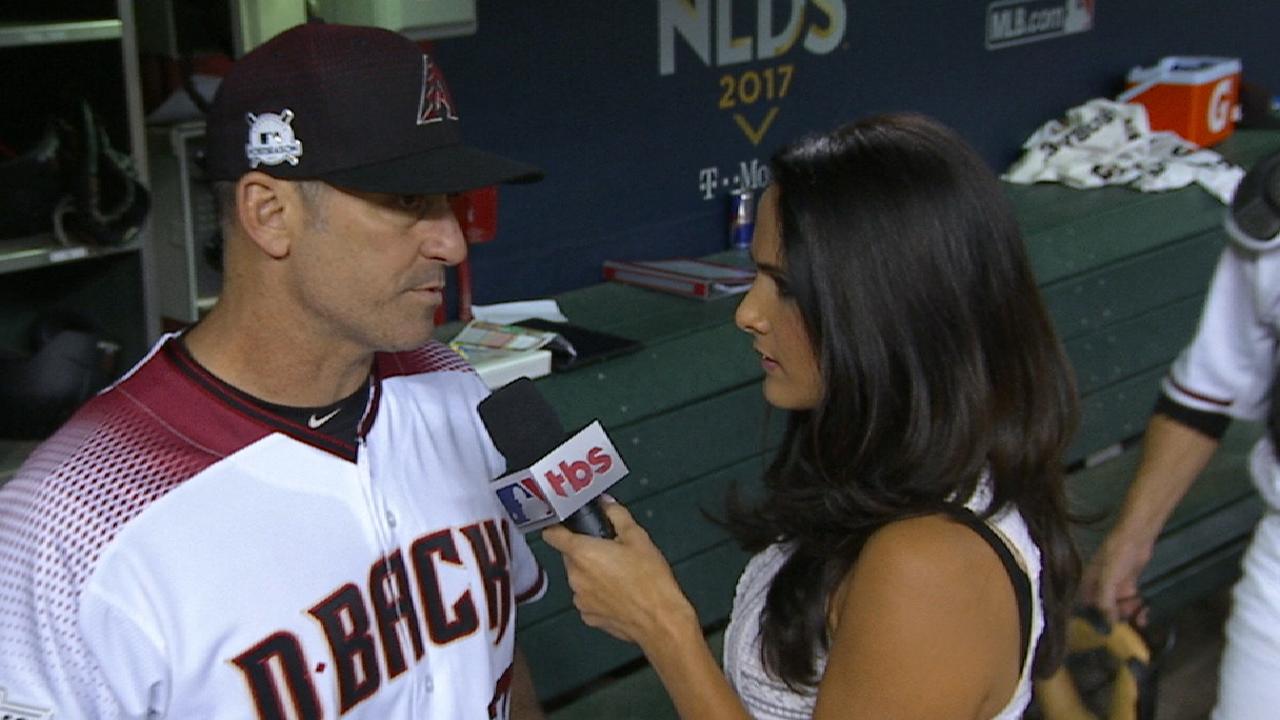 "Going through that whole first time through the order, I don't think they swung at one pitch out of the zone," Greinke said. "It's really tough to compete when they're not chasing anything or anything close.
"They don't chase any pitch you want them to chase, and that's kind of what they do best. They did it all series. Both those guys hit home runs on pitches I wanted them to hit. Not much I can really do about it."
Greinke was the lone D-backs starter to finish five innings in four postseason games as Arizona's arms -- considered a strength all season -- fell out of whack.
Los Angeles struck fear into many baseball projectors by winning 43 games in a 50-game stretch during the middle of the season. Lovullo didn't see that team this series, instead seeing a missed opportunity from his surprising club.
"I don't think the Dodgers played exceptionally well." Lovullo said. "I've seen them play better. They had a great streak in the middle of the season, but they played good enough to win, and they deserved to win this series. So my congratulations to that organization.
"But we didn't play our type of baseball for the past three games."
Fabian Ardaya is a reporter for MLB.com. This story was not subject to the approval of Major League Baseball or its clubs.