MLB.com Columnist
Barry M. Bloom
Elbow not issue as Goldy wraps MVP-caliber '17
D-backs star doesn't blame bout with inflammation for struggles down stretch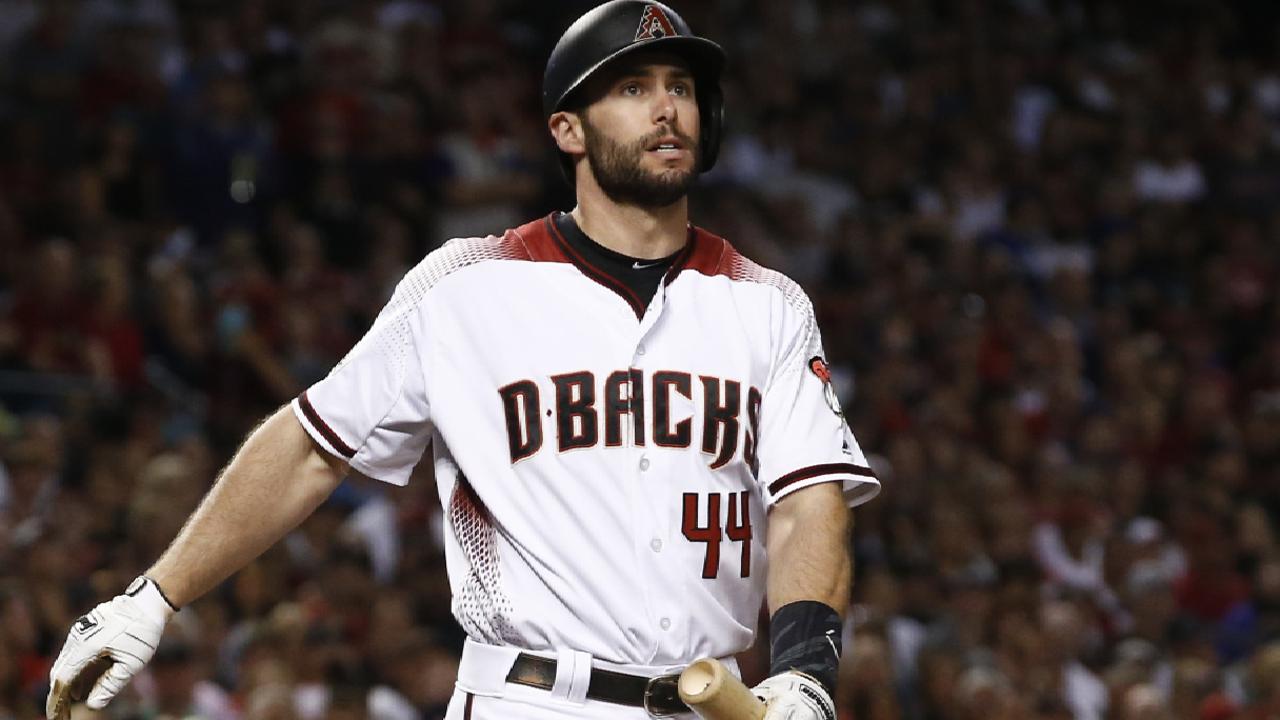 PHOENIX -- The final freeze frame for Paul Goldschmidt of the 2017 season on Monday night was the right-handed hitter flailing and missing at Kenley Jansen's full-count, 95-mph cutter just off the outside of the plate.
The strikeout ended the Dodgers' sweep of the D-backs in their best-of-five National League Division Series presented by T-Mobile in a 3-1 Game 3 loss and punctuated a tough final month for Goldschmidt.
"I did what I was trying to do [during that at-bat]," Goldschmidt said on Tuesday as the team packed gear in its Chase Field clubhouse and said farewell for the winter. "I was just disappointed that I chased that last one."
• After 'frustrating' end, D-backs look ahead
Goldschmidt, 30, is still at the height of his prowess. He had another stellar season: slashing at .297/.404/.563 with a .966 OPS. His 36 homers tied a career high and he added 120 RBIs, placing him smack in the middle of the NL's MVP race along with Miami's Giancarlo Stanton and Charlie Blackmon and Nolan Arenado of the Rockies. Dodgers rookie Cody Bellinger also has to be in the mix.
But the five-time All-Star first baseman never again seemed to gain his bearings after he missed five games because of inflammation in his right elbow from Sept. 3-8.
In the 20 games post injury, Goldschmidt had a slash line of .189/.256/.338 with three homers, 11 RBIs and a .594 OPS. Against the Dodgers, he went 1-for-11 in the three games, the one hit a two-run homer in the first inning of Game 2 at Dodger Stadium that gave his club a short-lived lead.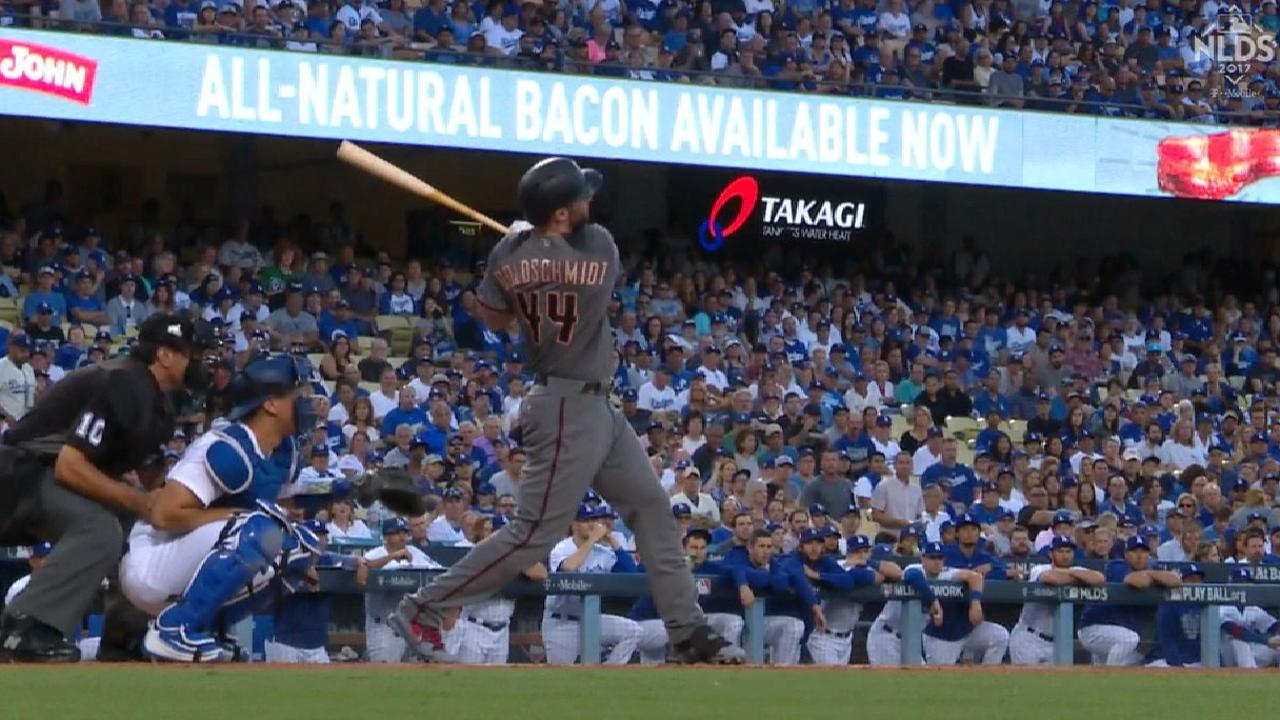 "I didn't play that well the last month and honestly against the Dodgers, too," Goldschmidt said. "I would like to have played better, but it had nothing to do with the elbow or the time off. I just didn't play well. I would've liked to have done better. The more times you get on base, the more chances we'd have to score runs and possibly win the games. But you can't change that."
On Tuesday, Goldschmidt looked ahead to resting said elbow and making sure it's sound for the 2018 season. Plus, there may be contract extension negotiations immediately ahead. He's under contract for 2018 at $11 million and the D-backs have a club option for '19 at $14.5 million or a $2 million buyout. Exercising that option would seem to be a no-brainer.
Goldschmidt's situation may not be the D-backs' top priority of the offseason with J.D. Martinez, Fernando Rodney and Chris Iannetta all pending free agents. But it has to be right up there.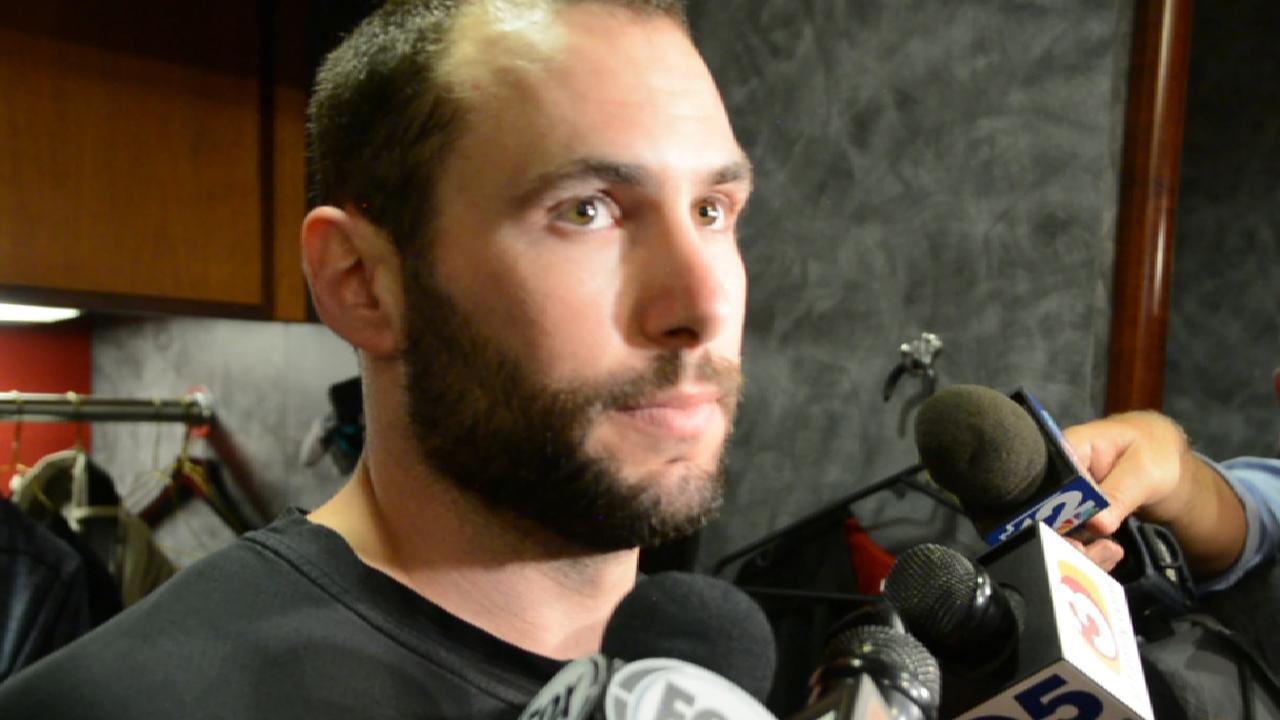 "He's a superstar baseball player and we're lucky to have him," said Mike Hazen, the team's GM. "We've been lucky to have him as long as we've had him and we'll be lucky to have him as long as he stays here. Clearly, he's a franchise player. We recognize that. I'm not going to get into contracts in a public setting, but he carried us for long periods of time on and off the field."
Goldschmidt's elbow began to bark during a series at Colorado that bridged the end of August into early September. After a planned off-day on Sept. 3 against the Rockies, the D-backs went on to Los Angeles. The trainers became so concerned about Goldschmidt's condition they flew him back to Phoenix where he underwent an MRI and was administered a cortisone shot to quell the inflammation.
Although team physician Gary Waslewski cleared Goldschmidt to play immediately, manager Torey Lovullo opted to keep him out of the lineup for the rest of that week. He returned on Sept. 9 at home against the Padres and hasn't been the same dominant presence since.
Goldschmidt said Tuesday he would have the elbow re-examined in a couple of weeks just to make sure there weren't any lingering issues. The original MRI revealed only inflammation, no bone spurs or tears. Goldschmidt said he wasn't sure whether the next step included another imaging exam.
"I'll rest [the elbow] for a couple of weeks, I usually take about a month off, regardless," he said. "I'll probably check it out just to confirm it, but it wasn't bothering me. Nobody's really worried, including myself."
Lovullo said after the game on Monday that he wasn't sure why Goldschmidt had struggled down the stretch.
"Maybe he's trying too hard," the manager said.
On Tuesday, Lovullo insisted that the elbow wasn't the problem.
"He was just getting normal treatment every day before the game," Lovullo said. "I don't think there was any significant damage done to the elbow that would require a shutdown or a procedure. The kind of rest he's going to get right now is going to make him feel better. He was assuring us he was 100 percent. The medical team said he was 100 percent. He's got the offseason to rest and get ready for Spring Training."
Goldschmidt is usually pretty laconic about his personal issues. On Tuesday, with his blond 2-year-old son, Jake, at his side, Goldschmidt was awaiting the offseason and the birth of his second child. The date and gender of the latest Goldy would be announced in the future, he said.
As far as shutting it down after a disappointing end to a surprising 93-69 campaign, Goldschmidt wasn't particularly ready, but he'll welcome the family time.
"It's tough right now," he said. "You think to yourself, 'What if we had just won? What if we had another chance and could've done something special?' But with time that kind of fades away and you realize a lot of great things happened this year."
Barry M. Bloom is a national reporter for MLB.com and writes an MLBlog, Boomskie on Baseball. Follow @boomskie on Twitter. This story was not subject to the approval of Major League Baseball or its clubs.