'Next Knuckler' takes hill for D-backs vs. Giants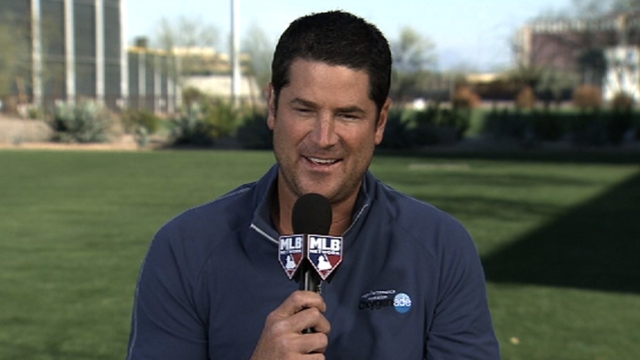 SCOTTSDALE, Ariz. -- It was just a "B" game on a back field with only a handful of people watching.
But to Josh Booty, it may as well have been Game 7 of the World Series.
Pitching for the first time outside of a simulated game, Booty threw an inning against Minor Leaguers from the San Francisco Giants.
Booty is in camp with the D-backs as a non-roster invitee after winning the spot on "The Next Knuckler" show put on by MLB Network last month.
"It was fun," Booty said of his outing. "I loved it. I would have loved to go another inning. It was eventful, that's for sure."
Booty faced six hitters and allowed a groundball single and two walks, and he had a wild pitch as two runs came across in the inning.
"He got out of it, and that's huge for anybody to go out who's never pitched on the mound in a game," D-backs pitching coach Charles Nagy said. "That's progress. We'll go from there."
Giants outfielder Roger Kieschnick led off against Booty and had the lone hit against him, and he noticed right away that command might be an issue.
"He threw a couple of good [knucklers]," Kieschnick said. "He just couldn't locate them for strikes."
It is possible that the D-backs would throw Booty for an inning during a Cactus League game, but that decision has not yet been made.
For Booty to have success, though, he will need to command the knuckleball better and trust it. The unpredictable movement of the pitch can wreak havoc with a pitcher's mindset on the mound.
"You get behind in the count, and you start aiming," Booty said. "That's the thing: You can't get behind in the count."
But that's what happened to the 37-year-old on Sunday morning.
In his hesitation to walk hitters, Booty threw more fastballs than a knuckler usually will. His mix Sunday was around 50-50 knucklers to fastballs.
"In the bullpen, I felt really good," Booty said. "If you get behind in the count it's tough, because then they know a fastball is coming, and if you throw it, they're going to put the barrel on it. I've got to get ahead, because then if I throw a fastball, it's a surprise. Every at-bat, that first pitch is crucial."
The D-backs estimated that Booty's fastball was in the upper 80s during bullpen sessions, but one scout's radar gun put it in the lower 80s on Sunday.
"I felt like my fastball was fine," Booty said. "I left it up a time or two. I got 3-2, and I'm throwing fastball because I trust it, and I've got to be able to on 3-2 throw a knuckleball and trust it."
Said Nagy: "It's just a matter of him commanding it, throwing it for strikes. If not, then people are just going to wait for him to throw his fastball. I think he understands that."
Throwing strikes, though, is just one piece of what a pitcher has to deal with while he is on the mound.
"There's a lot going on, and these pitchers are used to all that," Booty said of his teammates. "I'm not really used to facing righties and then lefties and then stretch and windup and getting behind or ahead and [wondering], 'What am I going to throw?'"
The game also moves much quicker when a pitcher faces an opponent, rather than throwing a bullpen session, and moving faster is not a good thing for a knuckler.
"He had pretty good movement on the knuckleball, but he couldn't locate it like he wanted to," Tuffy Gosewisch said. "Little nerves out there for sure, I think it started to speed up on him a little bit and just got ahead of himself. Finally at the end of the inning he kind of calmed down, and he did a pretty good job for his first time out. I didn't think it was bad at all."
Far from discouraged, Booty said he could not wait to get another chance.
"It was awfully fun, and I know I'm only getting better," he said.
Steve Gilbert is a reporter for MLB.com. Follow him on Twitter @SteveGilbertMLB. This story was not subject to the approval of Major League Baseball or its clubs.