Booty to get in more work in Minor League camp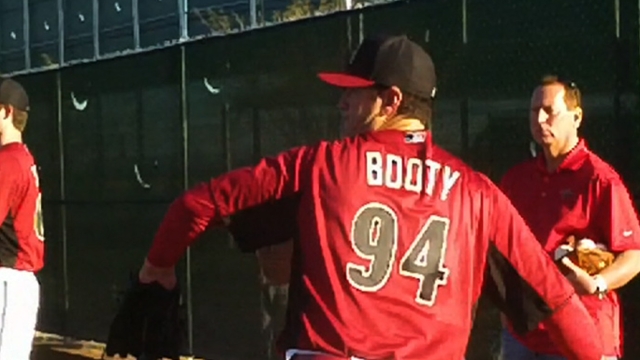 SCOTTSDALE, Ariz. -- The D-backs made 15 roster moves late Wednesday night, but reality show winner Josh Booty's reassignment to the club's Minor League camp caught the most attention.
Booty was with Arizona as a non-roster invitee after winning the spot on "The Next Knuckler" show put on by MLB Network last month.
The 37-year-old's only appearance came in a "B" game on March 10 against Minor Leaguers from the San Francisco Giants when he allowed two runs on a hit and two walks in an inning. Despite not throwing in a Cactus League game, D-backs manager Kirk Gibson spoke highly of Booty's work ethic during his time with the big league club.
"He's improved a ton, he lost close to 15 pounds with the workouts," Gibson said. "He's gotten much better, but where he's at, he's not ready for a Major League game right now. We're going to try to get him into more games down there, that's why we sent him out."
Booty, who was originally drafted in 1994 by Miami before deciding to play football instead, is still technically the property of the Marlins. D-backs team president and CEO Derrick Hall said earlier this spring, however, he thought the Marlins would be fine with him pitching in the Minor Leagues once spring training concluded.
Gibson said Friday the team would look to continue developing Booty depending on what the club sees from him through the rest of camp.
"I think if he can continue to improve, he'll have an opportunity to stay here and play in extended spring training," Gibson said. "If he doesn't, and the organization doesn't have a spot for him, I'd encourage him to go to independent ball and do it."
In addition to Booty, the D-backs reassigned Nick Ahmed, Matt Davidson, Ed Easley, David Holmberg, Garrett Mock, Chris Owings and Bo Schultz to Minor League camp as well.
The club also optioned Chase Anderson, Charles Brewer, Eury De la Rosa and Alfredo Marte to Triple-A Reno while sending Keon Broxton, Eric Smith and Zeke Spruill to Double-A Mobile.
The D-backs now have 44 players in camp, 33 from the 40-man roster and 11 non-roster invitees.
Tyler Emerick is an associate reporter for MLB.com. This story was not subject to the approval of Major League Baseball or its clubs.