D-backs look to fill void left by Eaton's injury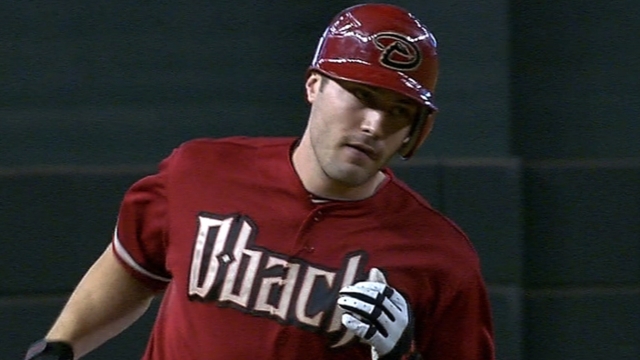 GOODYEAR, Ariz. -- With Adam Eaton out until at least the beginning of May, the D-backs began testing out their many outfield options on Friday, with just 10 days remaining until the season opener on April 1.
Because he had only played twice at the position this spring before Friday, A.J. Pollock, the club's No. 8 prospect according to MLB.com, got the start against the Indians in center field with Jason Kubel and Gerardo Parra flanking him in left and right.
D-backs manager Kirk Gibson said Pollock will play the next couple of days in center before alternating with Parra, who has played nine games this spring at the position so far.
Pollock appeared in 25 games for Arizona last season, making 14 starts in center, but wasn't expected to make the 25-man roster out of camp, before the injury bug hit his team's outfield.
Aside from Eaton, the D-backs are still missing their right fielder, Cody Ross, who hasn't played since March 3 with a calf injury and is in danger of missing Opening Day. Ross has been swinging the bat against Minor Leaguers while rehabbing and recently began running on a treadmill.
"I wouldn't rule Cody out," Gibson said. "I saw him jog across the outfield today. It's possible in a short period of time he could be running on the ground."
If Ross isn't ready for the start of the season, the Opening Day outfield will all but certainly be comprised of Kubel, Pollock and Parra.
Other potential D-backs who could fill in occasionally include Willie Bloomquist and Martin Prado, who Gibson said will play in the outfield on Saturday against the Royals. Arizona still has Tony Campana in its Major League camp, but the outfielder will miss the next three to four days after the stitches on his hand opened on Thursday.
The player who is farthest off the radar is Alfredo Marte, whom the D-backs brought back from its Minor League camp on Friday. Marte played in 17 games this spring in the outfield and had a .289 on-base percentage.
"We're anxious to see Marte again," Gibson said. "He's had a really good camp, he's come on really fast."
Tyler Emerick is an associate reporter for MLB.com. This story was not subject to the approval of Major League Baseball or its clubs.