Taking the fifth? Corbin's outing speaks for itself
Left-hander enhances his case for spot in D-backs' rotation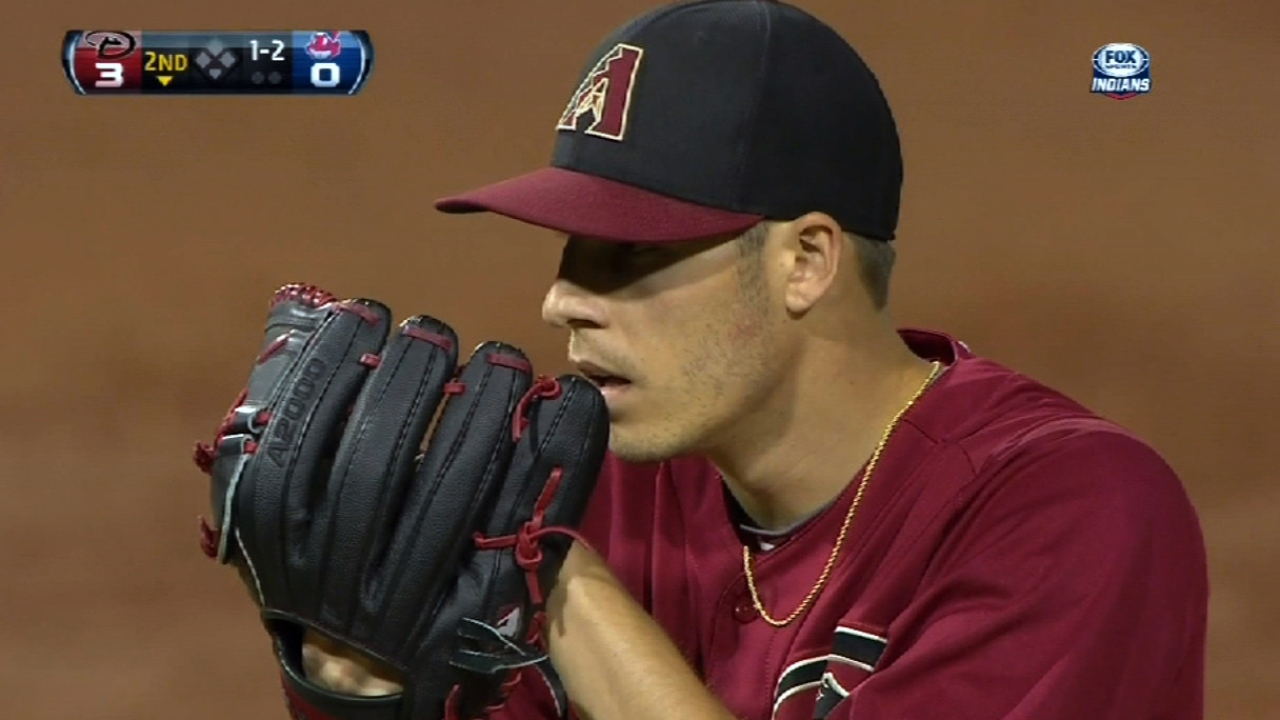 PHOENIX -- Competing alongside Randall Delgado for the fifth spot in the D-backs' starting rotation, Patrick Corbin turned in his third consecutive quality outing on Friday against the Indians, tossing five innings and allowing two runs on three hits.
The outing was the left-hander's longest of the spring, and he figures to start once more before camp breaks at the end of the month.
"It felt good getting up there around 90 pitches," Corbin said. "My arm feels good and I'm getting my stamina up."
Corbin cruised through the first two innings on Friday, facing the minimum six batters, but ran into trouble in the third when he admittedly worked too fast and lost command of his fastball. The 23-year-old walked the bases loaded, then allowed a two-out, two-run single to Michael Bradley.
"I was feeling good, then maybe I just rushed a little bit," Corbin said. "Usually I can correct that quick, but it took me a while. After that, though, I think I went after guys better."
Corbin escaped the inning by picking Asdrubal Cabrera off third, a move that impressed D-backs manager Kirk Gibson, given the situation.
"When things are going bad, that kind of play is a good sign," Gibson said. "A lot of guys would balk or throw the ball away. He does a lot of things well and that got him out of the inning."
In his final two innings Friday, Corbin settled back down and didn't give up a hit the rest of his night.
"It was nice to put up those zeroes," he said.
Overall, Gibson was pleased with what he saw from his young southpaw, especially the command of his secondary pitches.
"He was able to throw his change-up and slider when he was behind in the count tonight," Gibson said. "Not too many hitters are looking for that, they are gearing up for the fastball. That's impressive."
Over his last 13 2/3 innings, Corbin has surrendered just four runs while striking out 10. In fact, without a one-inning meltdown against the Royals on March 6, the left-hander would have a 1.93 ERA this spring.
Delgado is scheduled to start Saturday for the D-backs against the Royals, but as for when the decision will be made, Gibson wouldn't say.
"We'll have a conversation, get opinions and try to understand what will work, but we're still in the process," Gibson said.
Tyler Emerick is an associate reporter for MLB.com. This story was not subject to the approval of Major League Baseball or its clubs.