Kennedy discusses road to success in Chatting Cage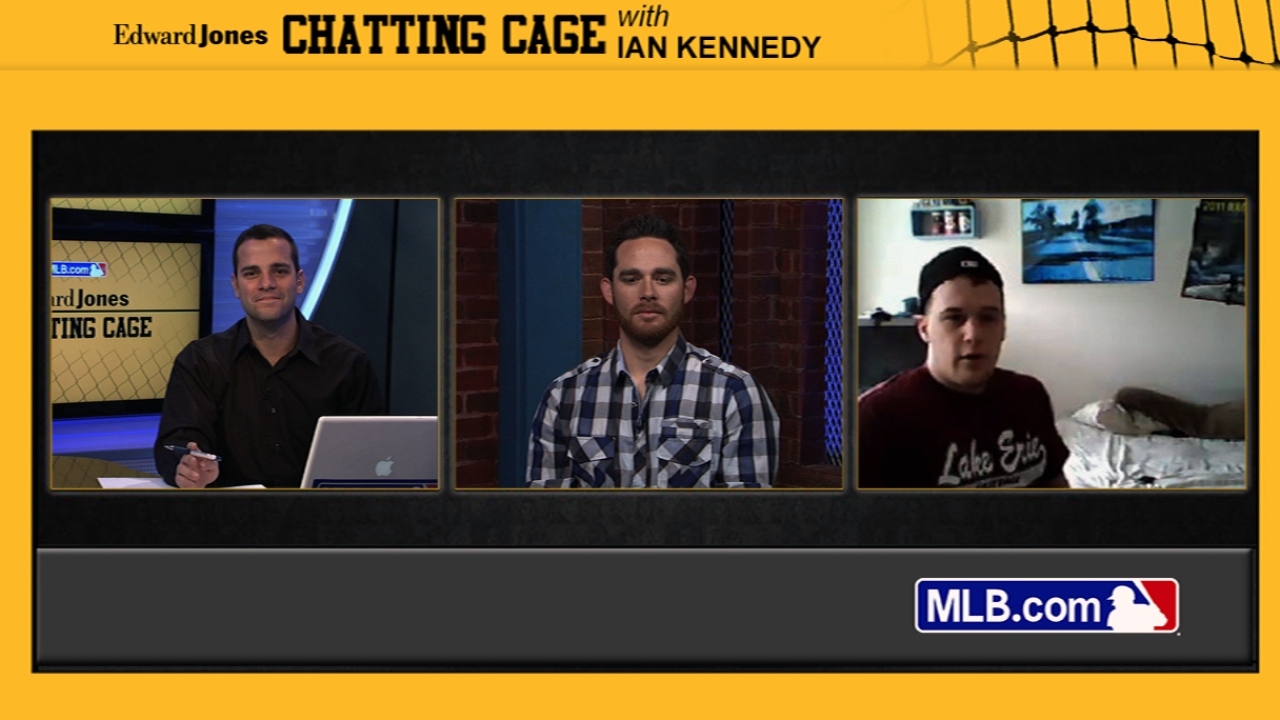 D-backs right-hander Ian Kennedy stepped into the Edward Jones Chatting Cage at MLB.com headquarters on Tuesday morning to field questions from fans on social media and around the country.
In New York for Arizona's three-game series against the Yankees -- the organization for which he pitched from 2007-09 -- Kennedy spent time discussing an array of topics ranging from his role as the D-backs' ace to his tenure in the Bronx.
"It was a lot of fun, just interacting with fans," Kennedy said. "I saw a lot of Phoenix fans, but I also saw fans from around the country; one in Ohio and some in New York. It's a lot of fun to be able to do that."
The main man on Arizona's starting staff and the club's Opening Day pitcher in each of the past three seasons, Kennedy was dealt to the D-backs in December 2009 as part of a three-team blockbuster that also landed Arizona right-hander Edwin Jackson.
For their part, the Detroit Tigers picked up center fielder Austin Jackson and pitchers Max Scherzer, Phil Coke and Daniel Schlereth. In dealing Kennedy, Coke and Jackson, New York acquired All-Star outfielder Curtis Granderson.
"I loved being a Yankee; I loved playing in New York," Kennedy said during his Chatting Cage session. "You can kind of tell there's an aura being a Yankee. It's about winning, and that's what I like.
"I know my parents and a lot of my friends and family were happy to see me go to the West Coast [when I was traded], because it's really close for them to see me play in L.A. and San Diego," he added. "I love it out there. I love playing for the Diamondbacks now. It's just two great organizations."
When creating preseason prognostications prior to the outset of the 2013 campaign, many pundits picked the D-backs to finish behind the revamped Los Angeles Dodgers and defending World Series champion San Francisco Giants. But through the first 12 games, Arizona is sitting pretty with an impressive 8-4 record, just one-half game behind Los Angeles.
"Everybody's pitched well, everybody's picked up each other's slack," Kennedy said. "Whether it's pitching or hitting, we are doing a lot of the small stuff. We haven't hit a lot of home runs, but as long as we keep winning, we don't care how it happens."
Though he hasn't excelled through his first three trips to the hill (1-1, 5.79 ERA), the veteran is viewed as the head of Arizona's young but talented rotation. A fourth-place finisher in the 2011 National League Cy Young Award race, the California native can retire big league batters as well as anyone when he's on.
In his three-plus years with Arizona, Kennedy is 46-27 with an impressive 3.61 ERA in 101 regular-season starts. He also helped get the D-backs to the playoffs in 2011, when he tied for the Senior Circuit lead with 21 victories and posted a terrific 2.88 ERA.
While conquering struggles and injuries that beset him early in his career, Kennedy learned a great deal about professional life during his tenure with the 27-time World Series champions from the Bronx.
"[Yankees southpaw Andy Pettitte] took me under his wing," Kennedy said. "You don't have a lot of family on the road; you don't have a lot of friends on the road. He'd always take me around ... he helped me a lot in my career."
Now 28 years old, Kennedy has had the opportunity to pay forward many of the lessons instilled in him.
"I feel like I have played with the best guys, Hall of Famers. To learn things and to pass those things along [to my younger teammates], I'll do that," said Kennedy, who added that his professional development was accelerated by the chance to perform under the bright lights of the Big Apple.
Following Kennedy and 29-year-old Brandon McCarthy in the D-backs' 2013 rotation are three youngsters: Wade Miley, 26, an All-Star and runner-up in the NL Rookie of the Year Award voting last year; Trevor Cahill, 25, a young veteran who is already in his fifth big league season; and Patrick Corbin, 23, who has kicked off 2013 with a 2-0 record and a 1.50 ERA. Corbin, who tossed 107 frames for Arizona in 2012, earned a rotation role this spring after beating out prospects Tyler Skaggs and Randall Delgado.
Having ridden the shuttle between the big leagues and Triple-A as a young hurler, Kennedy understands how it feels to be optioned to the Minors amid unmet early expectations. But after realizing his potential during a breakout 2011 campaign that he completed with some serious hardware -- MLB.com honored him with its Breakout Player of the Year GIBBY -- Kennedy can confidently state that hard work and determination often precede on-field success.
"[Becoming ready for the Major Leagues] just takes time," Kennedy said. "That's what Skaggs has to learn. He's so young, he's 21 years old. Some guys are just leaving college or still in college at this time. He's ahead of the curve."
The script on Arizona's 2013 season will be in the works for a while, but the club unquestionably has depth and determination on its side. Whether it can bring postseason baseball back to the desert this October is still anyone's guess, but with leaders such as Kennedy, the future looks bright.
Zachary Finkelstein is an editorial producer for MLB.com. This story was not subject to the approval of Major League Baseball or its clubs.