No backseat managing from Gibson after ejection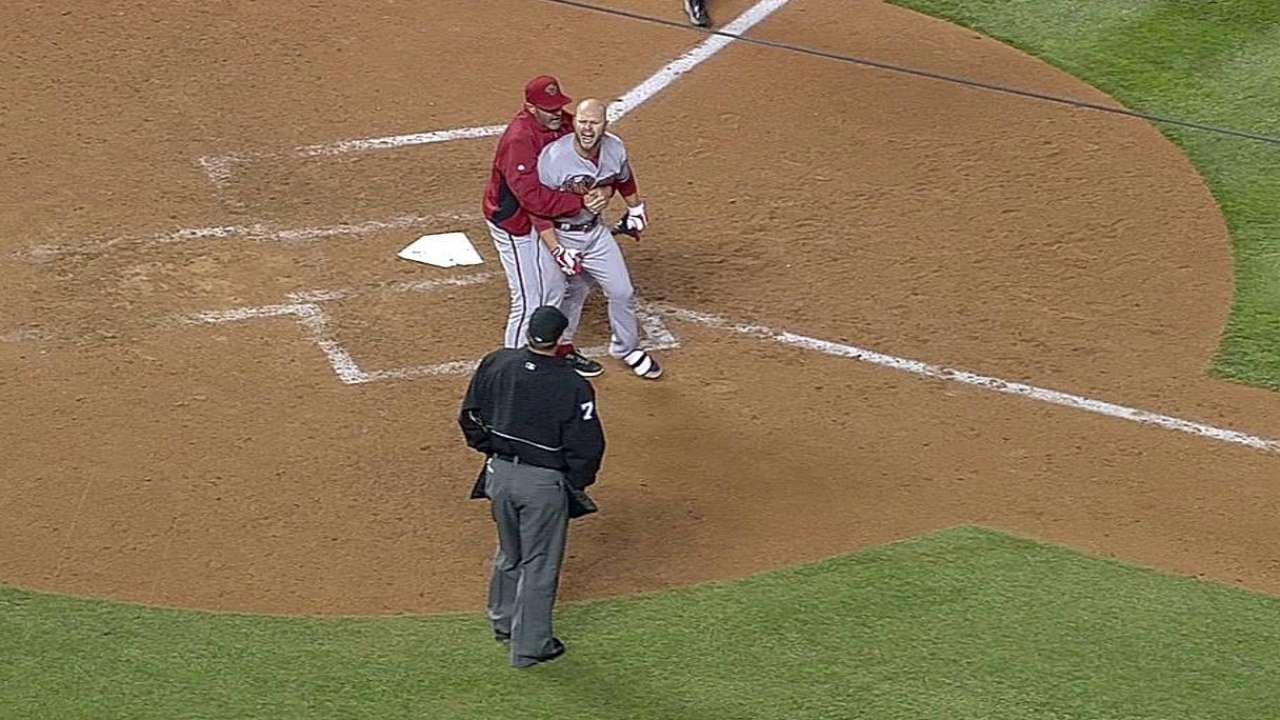 DENVER -- Following his third career managerial ejection Saturday night, D-backs skipper Kirk Gibson left the game in the hands of bench coach Alan Trammell, preferring to steer clear of any backseat managing from the clubhouse or the tunnels.
"It's against the rules," Gibson said, smiling. "I try to follow the rules. If you've been a bad boy, you act like you've been a bad boy and serve your punishment.
"If I had a strong, strong, strong conviction on something, I'd try to get word there with two cups and a string running down," Gibson said, joking. "I think that's legal."
Through a 17-year playing career and two stints as a bench coach -- for Trammell in Detroit and A. J. Hinch in Arizona -- Gibson has seen plenty of examples of managers who tried to keep their hand in the game after being asked to leave.
"When I was a bench coach, it happened both ways," Gibson said. "But for me, I'm out of the game, I'm not out there, I'm not standing in the dugout, I'm not seeing guys' eyes. There's a lot more that goes into making decisions by your feel than a guy sitting in the tunnel or being up here [in the clubhouse] and running down there. I can tell you it's way different from where you sit or from where I was sitting last night than from where you're sitting out in the dugout trying to make decisions."
With Trammell and hitting coach Don Baylor both having successful managerial backgrounds to bring to the dugout in Gibson's access, Gibson has no hesitation about trusting his coaches. His own experience as a bench coach reinforced the point for him.
"I was involved in a situation where I was the bench coach, and the interim manager of that game [after the manager was ejected], where I was right on the situation," Gibson said. "I'd asked a couple questions of a couple people, just to get a reading of where I thought they were, and I was right on it. Then I got word [from the ejected manager] to do something different. I really felt strongly that this was the way to go. I obviously did what the guy wanted me to do, and it ended really bad, really quickly. That's kind of why I am the way I am. I'm not going to stand down there and peak around the corner."
Owen Perkins is a contributor to MLB.com. This story was not subject to the approval of Major League Baseball or its clubs.