Nieves benefits from higher spot in batting order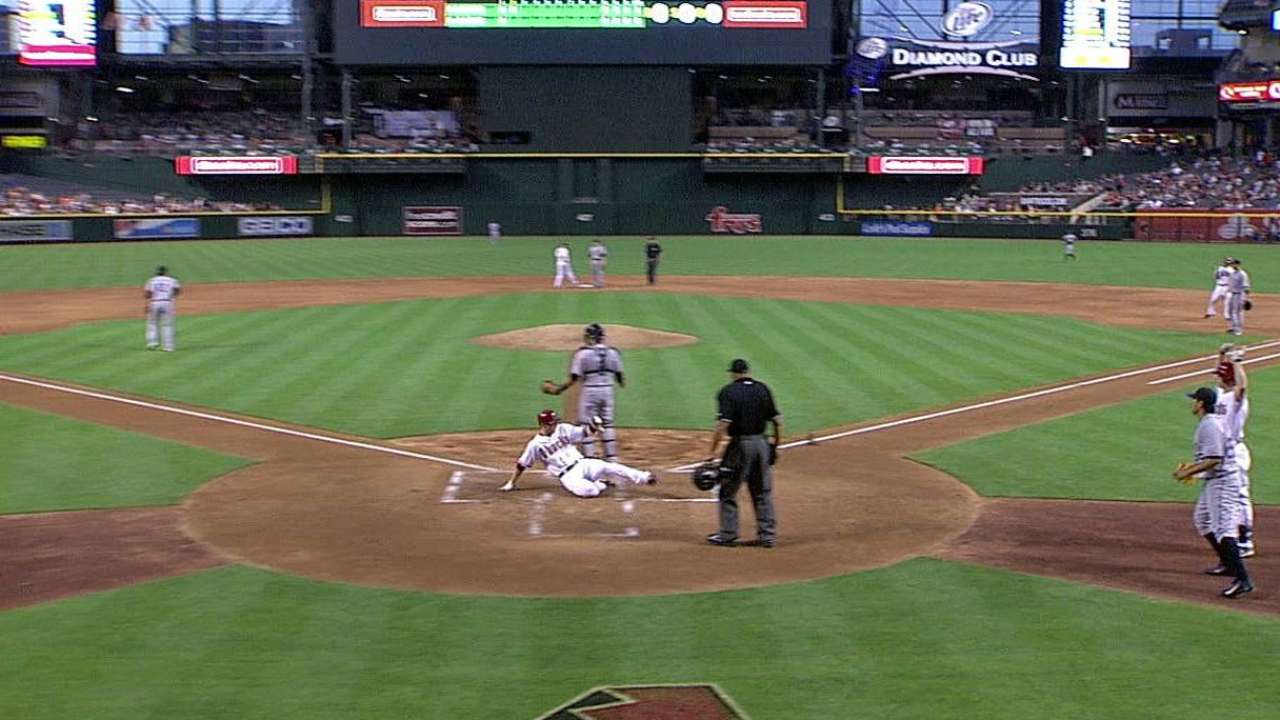 PHOENIX -- With starting catcher Miguel Montero behind the plate on most days, Wil Nieves hasn't seen much field time early this season. But that's doesn't mean the D-backs lack confidence in the 35-year-old veteran.
In the backup catcher's three starts in 2013, D-backs manager Kirk Gibson has penciled in Nieves in the sixth or seventh spot instead of the eight hole in front of the pitcher, which is a tough place to bat. That trust in Nieves to hit higher in the order has panned out over the first few weeks of the season, with the catcher collecting three RBIs and hitting 6-for-12, including a 3-for-3 night at the plate on Thursday.
"I'm pretty sure it has helped," Nieves said. "I thank God Gibby has put me sixth or seventh, because when you have some protection behind you, it's so much easier."
The confidence the club has in Nieves is something new to the journeyman, who knows what it's like to hit with the pitcher behind him for seasons at a time. Over his nine-year career, Nieves has hit eighth in 180 of his 233 starts.
"That's a tough spot," he said. "I remember when I was with the Nationals, Ivan Rodriguez hit eighth for the first time in his career and he went 0-for-4 with three strikeouts. After the game, he came up to me and asked me how I do it. I just told him, 'Yeah, it's tough.'"
Even though it was a challenge while he was relegated to the eighth spot, Nieves believes the experience batting there for so long has helped him evolve into a better hitter over the years.
"You have to be patient there, you have to know how the game is going, what the situation is and everything," he said. "It's different every time, because in a lot of scenarios they might pitch around you. It's helped me a lot. You can't try to do too much, just keep it simple. I've tried to continue doing that, and so far it has paid off."
Besides the benefit of hitting higher in the lineup, the catcher believes part of his early success is also due to some new batting-practice habits he has tried to instill in himself.
"A lot of times in BP, guys try to hit home runs and see how far they can hit it," Nieves said. "But they end up flying open with their swings and it creates bad habits. So I'm trying to do the same in BP as I would in a game. I don't even look where the ball is going. Manny Ramirez used to do that, and that's what I've been doing."
Tyler Emerick is an associate reporter for MLB.com. This story was not subject to the approval of Major League Baseball or its clubs.