Gregorius injury forces D-backs to activate Kubel earlier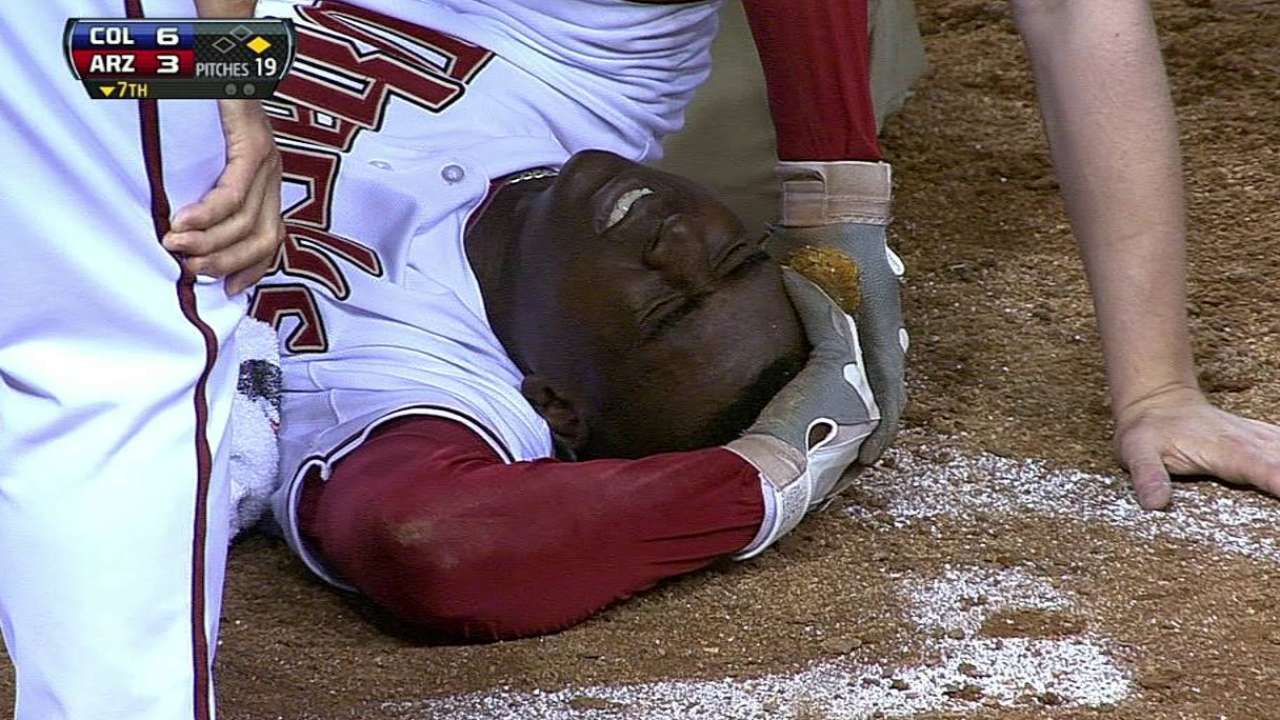 PHOENIX -- Just a day ago, the D-backs planned to send Jason Kubel to a rehab assignment at Triple-A Reno before activating him on Wednesday. But with Didi Gregorius still suffering from concussion symptoms, the club was forced to scrap that plan on Sunday.
Exactly 15 days after Kubel went on the disabled list with a strained left quad, the D-backs reinstated him Sunday and placed Gregorius, who was hit in the helmet with a 93-mph fastball on Saturday, on the seven-day DL with a mild concussion.
The D-backs could've waited to put Gregorius on the shelf, but if they wanted to backdate his DL stint, they had to make the move Sunday. This way, the rookie shortstop will be available to come off the DL two days sooner, as the transaction was made retroactive to Saturday.
Kubel, who was originally scheduled to take Sunday off after playing in an extended spring game in Scottsdale on Saturday, was in the lineup Sunday for the D-backs, batting third and playing left field.
Before getting hurt, the 30-year-old Kubel was hitting .333 with two doubles, two home runs and six RBIs.
"I'm feeling good. It's good to be back," he said. "We took a lot of rest, and I haven't felt my quad in over a week. I've been running around in games the last couple days, and it just feels good. I'm ready to go."
Even though Kubel is optimistic that the pain is behind him, the D-backs will keep a close eye on him moving forward and try to be careful with the outfielder if the injury flares up again.
"We just have to be alert if he feels anything at all," D-backs manager Kirk Gibson said. "We don't want him to push it too much and re-injure it."
As for Gregorius, the 23-year-old continues to feel better every day, but the club doesn't want to rush his return, especially with a head injury.
"He could've had a serious injury," Gibson said. "It could've hit him in the face. A lot of bad things could've happened."
In order for Gregorius to be cleared to play again, the rookie needs to be symptom-free and pass a series of examinations that tests his brain function in an athletic atmosphere.
"There's a list of 20 questions, and you have to answer them all. He hasn't done that yet," Gibson said. "The next step after that is you go put him under light distress with exercise, then you test him again. Until he's done all that, he can't do anything."
Gregorius had hit safely in all seven games this season for the D-backs, going 11-for-27 with four doubles and two home runs.
Tyler Emerick is an associate reporter for MLB.com. This story was not subject to the approval of Major League Baseball or its clubs.