Close games forcing heavy workload on relievers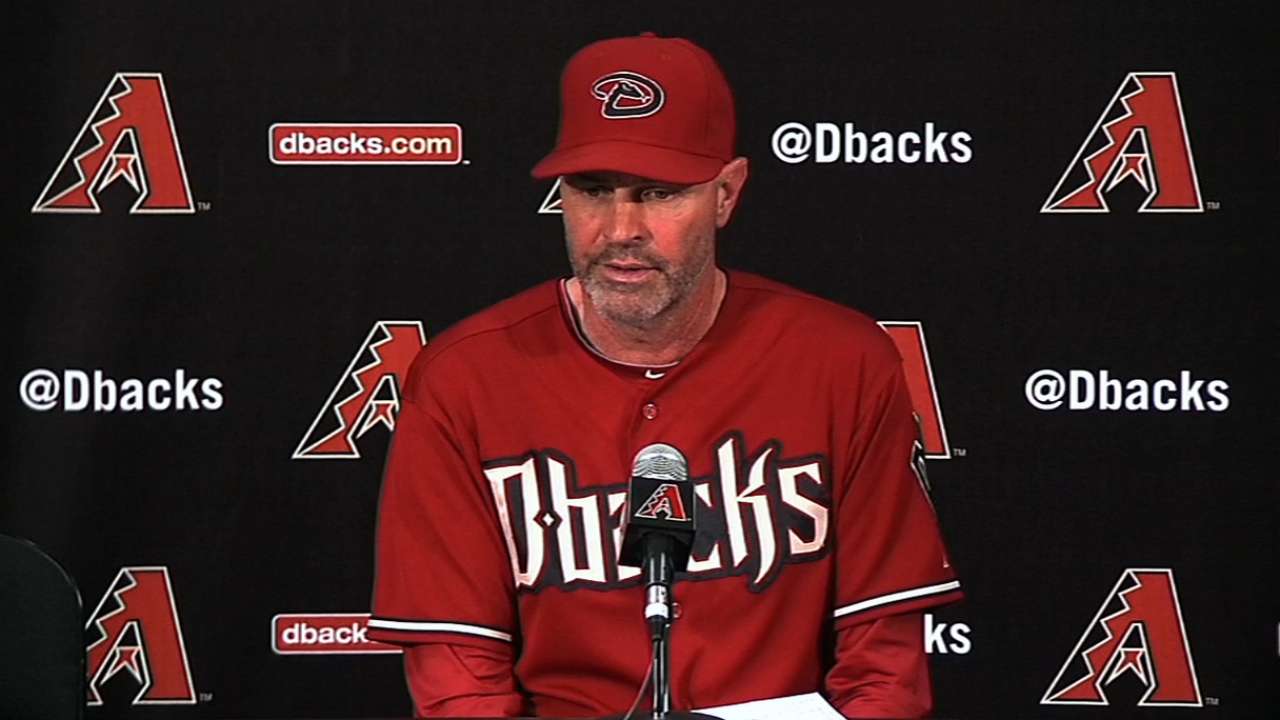 PHOENIX -- Using J.J. Putz and Brad Ziegler's recent performances in losses as examples, D-backs manager Kirk Gibson said Wednesday he'll aim to stay away from certain relievers when the coaching staff determines they need a break.
"What I'm trying to do is to get these guys freshened up a little bit," he said. "We haven't been able to manage the bullpen like we'd like to. When you're in a tight game, you continually have to matchup and guys are getting up more often."
Of the club's first 27 games this season, 20 have been decided by two or fewer runs, meaning the bullpen hasn't been able to relax much. The results haven't been pretty as the D-backs have blown nine saves this season, the most of any team in baseball.
Putz, who the club still backs as its closer, has been at the center of the bullpen's woes, with the veteran blowing four saves this season, including Tuesday night when he served up a two-run shot to the Giants' Pablo Sandoval in the ninth inning.
"With J.J., if you look at the last 11 games, he's been up or in a game eight out of 11 times," Gibson said. "That's a lot and J.J. isn't a spring chicken."
On Saturday, when Putz converted a save opportunity against the Rockies, the right-hander's fastball ranged between 92-94 mph. But on Tuesday, his velocity dropped a bit, with his heater registering as low as 89 mph.
As for Ziegler, the 33-year-old hadn't allowed a run in his previous six outings before giving up runs in his last two appearances, including Monday when he walked two batters with two outs, then surrendered the game-winning hit to Brandon Belt.
Gibson admitted he needs to be more alert to those types of trends and use relievers accordingly.
"That kind of tells you something," Gibson said. "That maybe we need to give them more time."
Another reason Gibson gave for the bullpen's struggles in close games was the team's schedule to date. The D-backs have yet to face a team with a sub-.500 record this season and they haven't had an off-day since April 15.
"What you have to do here is keep things in perspective," Gibson said. "You go in Spring Training and you can have [relievers] on any schedule you want. Then you go into the regular season and early on you have off-days. Then we go on a run of 16 games in a row, and that's really the first time the pitching staff is in a regular season. You put it all together and it's tough."
While Gibson wouldn't reveal whether Putz would be available to pitch in Wednesday's series finale against the Giants, the manager said he wouldn't hesitate to use anybody in the bullpen in a save situation if the game calls for it.
"We'll go to anybody," he said. "We've closed with [Matt] Reynolds two days in San Francisco. Obviously David [Hernandez] has experience and Heath [Bell] does too. I'd close with [Josh] Collmenter too. All our guys are capable."
Tyler Emerick is an associate reporter for MLB.com. This story was not subject to the approval of Major League Baseball or its clubs.