Hill, Bloomquist eager to return from DL stints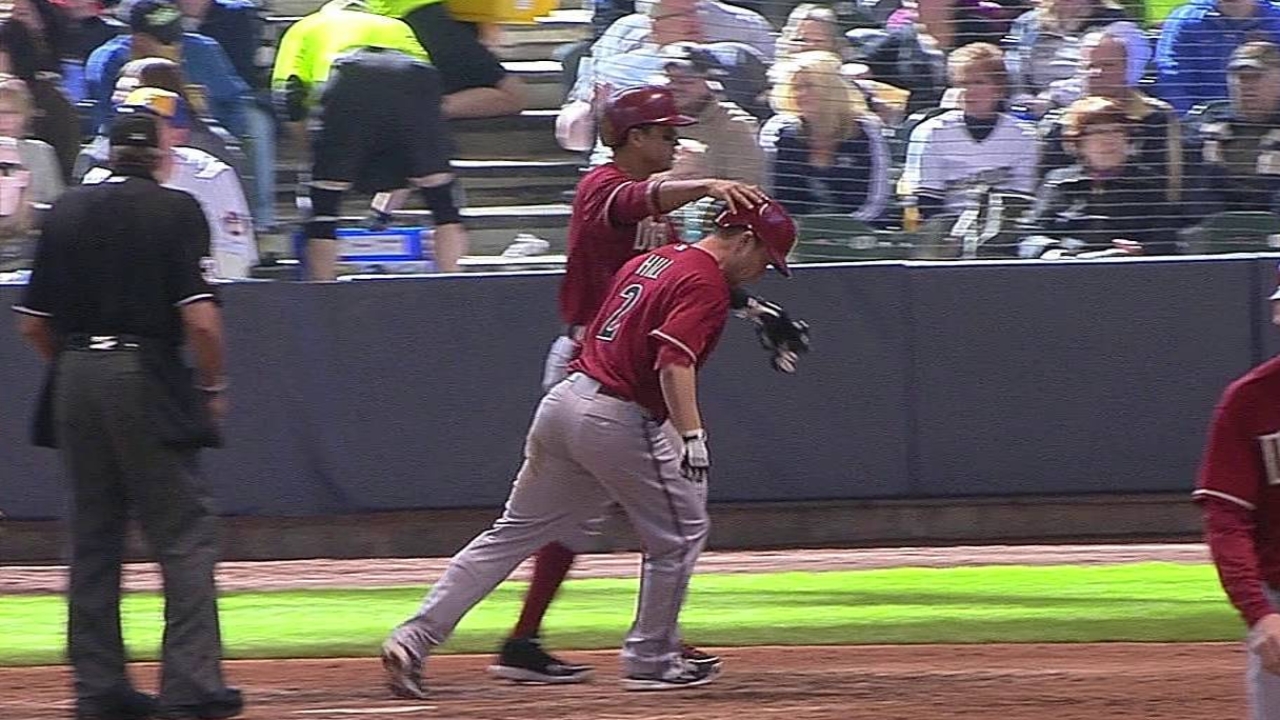 PHOENIX -- Aaron Hill and Willie Bloomquist are waiting on the disabled list for their respective injuries to improve before taking their next steps forward in returning to the D-backs.
Hill, who suffered a broken hand on April 9 and has been on the DL since April 15, was hoping to be out of his soft cast this week but the bone was still tender when he tried to pick up a bat and doctors ordered him to keep the cast on for another week.
"Until we see it heal, we don't want to mess with it," he said. "You just feel it when you do something, but that's why they have it in a cast."
The second baseman will visit the doctor again Sunday and undergo another CT scan on Monday with the hopes of seeing enough improvement to hit off a tee at some point next week.
In the meantime, Hill is working out at the club's Spring Training facility in Scottsdale, running, keeping his footwork sharp and standing in on bullpen sessions to track pitches with his eyes.
In Bloomquist's case, the shortstop thought he was feeling good enough to play in extended spring games, but in his first at-bat on May 2, he felt some pain and has since gone back to swinging only in batting practice. The 35-year-old hasn't played since straining his oblique in the final days of Spring Training this year.
"I hadn't taken a swing with that intensity before and I wasn't ready for that type of intensity," Bloomquist said. "It was just something to let me know that I'm not ready. It wasn't a grab or pull, just a little bit of pain."
Earlier this week, D-backs manager Kirk Gibson called the incident a setback, but Bloomquist disagreed.
"I wouldn't call it that," he said. "It was the only way to find out if I was ready, I had only taken batting practice before."
Bloomquist hopes to try swinging in a game scenario again sometime next week but acknowledged that it isn't his decision.
"We're just trying to find when is the right time to try it out," he said. "It's a tough injury in the fact that it feels good to me."
Now six weeks since the initial injury, Bloomquist admitted to being frustrated with how long his recovery has taken but he said he knows players who have taken even longer.
"I was expecting to be back by now but I've talked to guys who've had similar injuries and they said it took them seven, eight, nine weeks before it felt right again," he said. "Does it make me feel better? No, but it lets me know I'm at least not behind schedule."
Tyler Emerick is an associate reporter for MLB.com. Steve Gilbert is a reporter for MLB.com. Read his blog, Inside the D-backs, and follow him on Twitter @SteveGilbertMLB. This story was not subject to the approval of Major League Baseball or its clubs.