Harris impresses in brief D-backs debut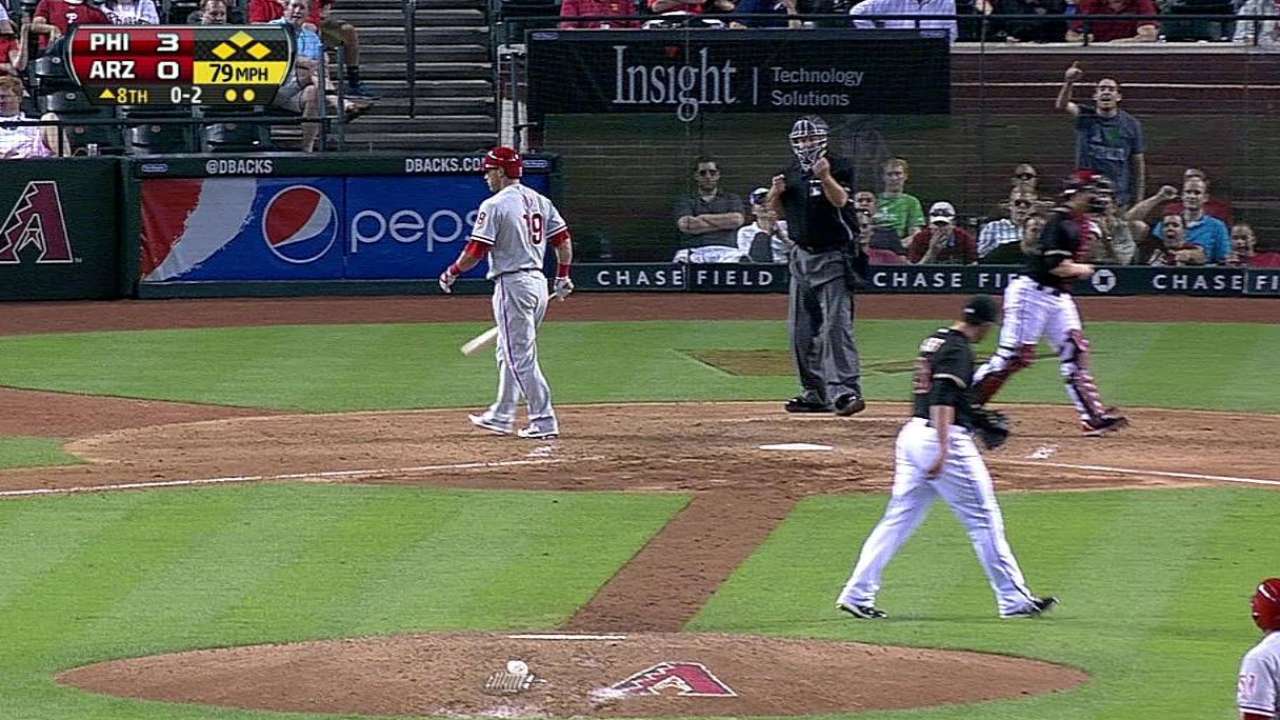 PHOENIX -- It didn't last long, but Will Harris made his D-backs debut Friday against the Phillies, striking out the only batter he faced, Michael Young, on four pitches.
After being put on waivers by the Rockies and A's earlier this season, Harris was glad to be back on the mound in the Majors, no matter how brief it was.
"It was good," said Harris, 28. "I knew I was only facing one hitter so that made it easy for me to focus on what I wanted to do to Young, and that was all I had to worry about."
When Harris got the call up to the big leagues on Wednesday with J.J. Putz landing on the disabled list, D-backs manager Kirk Gibson initially said he'd try to ease the right-hander into action. That wasn't exactly the case though, as Harris worked the first out of the eighth inning Friday in a tie game.
Still, his quick disposal of Young made a strong first impression on Gibson.
"If you look at how to get a guy's feet wet, I'd rather do it that way than put him in in a blowout," Gibson said Saturday. "He threw a really good sequence and he'll be better prepared because of it. Anybody is going to be nervous on a new team, you want to impress and he did a good job."
Moving forward, Friday's outing vs. the right-handed-hitting Young could be a predictor of what's to be expected of Harris in the future. At Triple-A Reno before his promotion, Harris' splits against lefties and righties were a stark contrast. Against left-handed batters, he struggled mightily, allowing seven runs (six earned) on nine hits over 5 2/3 innings. When matched up vs. righties, he was dominant, tossing six shutout frames and giving up just three hits.
So while Tony Sipp fills the left-handed specialist role, Harris could see most of his time coming against righties.
"That's how the big league bullpen is run, it's more matchups than it is in the Minors," Harris said. "I'm sure I'll face my fair share of righties. But I'm comfortable facing both. It seemed like every time I gave up runs in the Minors it was to lefties, it was a little skewed there but I don't have a problem with facing them though if the situation calls for it. Still, I kind of know my slot, it's defined a little bit."
Tyler Emerick is an associate reporter for MLB.com. This story was not subject to the approval of Major League Baseball or its clubs.