Parra making noise in clubhouse, on field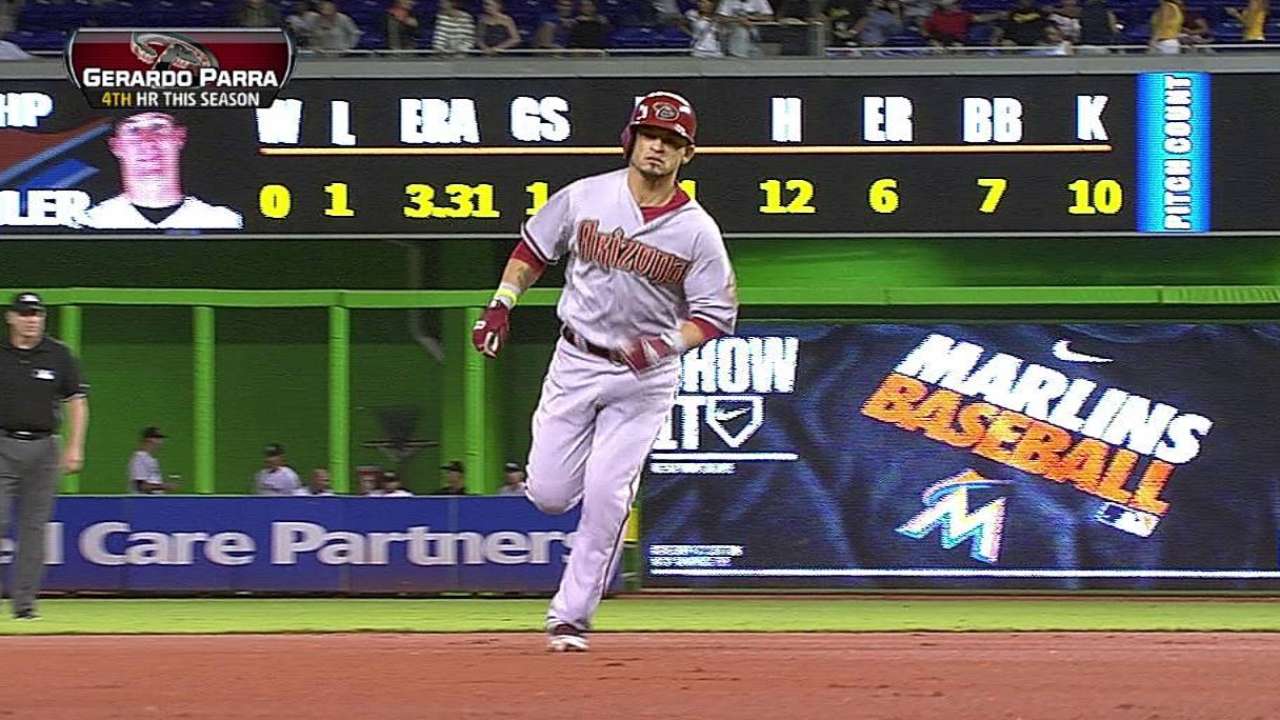 MIAMI -- The blasts from the air horn come at irregular intervals prior to batting practice.
One thing that is consistent is the smile that appears on outfielder Gerardo Parra's face after he startles his teammates with the loud noise inside the relatively small visitors' clubhouse.
One of the blasts could be heard loud and clear in Kirk Gibson's office during the manager's pregame media session Sunday. Gibson just smiled.
"Whatever makes him happy," Gibson said. "Just keep playing. I enjoy it."
And what's not to enjoy about Parra these days? He came into Sunday's game hitting .327 and was third in the National League with 55 hits.
Add to that his usual stellar defense -- he threw out another runner trying to score on Saturday -- and his teammates are willing to tolerate a little clubhouse noise.
"He's got energy and he's fun," Gibson said. "He likes to compete, likes to be challenged."
Especially by opposing baserunners who will get the Dikembe Mutombo finger wag as he jogs off the field after throwing them out.
Parra provided all the offense in Brandon McCarthy's 1-0 win Saturday night with a leadoff homer, and also saved that run with his defense. McCarthy was asked after the game what he knew about Parra before joining the D-backs this past offseason.
"Defensive wizard was what I heard," McCarthy said. "I had never really seen him as a hitter outside of maybe a spring game where you're half paying attention anyway. Did I know he was this or capable of this? I had no idea of that."
Parra went 0-for-4 with three strikeouts in Sunday's 2-1 loss, but is still batting .320.
Steve Gilbert is a reporter for MLB.com. Read his blog, Inside the D-backs, and follow him on Twitter @SteveGilbertMLB. This story was not subject to the approval of Major League Baseball or its clubs.