McCarthy placed on DL with shoulder injury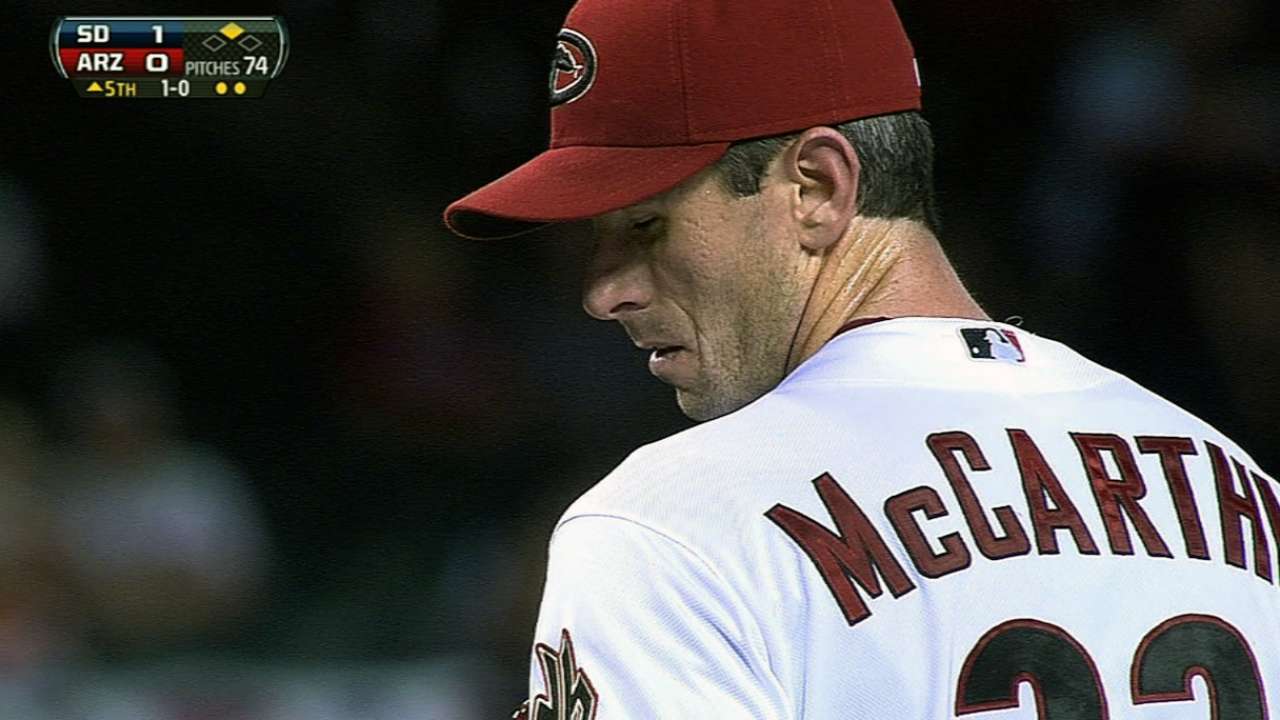 CHICAGO -- Brandon McCarthy has been down this road before, so after it was announced that the right-hander was going on the 15-day disabled list with shoulder inflammation, he was ready for the media as they approached his locker in the visitors' clubhouse.
"That's cool," he told his teammates. "I've got this one memorized."
Randall Delgado was recalled from Triple-A Reno to take McCarthy's spot on the roster.
This marked the fifth consecutive year that McCarthy has spent some time on the disabled list with a shoulder issue. So, on the one hand, McCarthy knows what to expect with the injury. But on the other, it certainly is frustrating that it continues to happen.
"You take away a lot of the unknown," McCarthy said. "I know what the recovery is. I know how long it takes. I know what I'm feeling for. That makes it a little easier, when you're not worried. I kind of know the road, at least. That helps some. But the fact that I can't still figure out how to get around it, or what it is, that's kind of the difficult part."
McCarthy, 29, lasted just 2 2/3 innings in his last outing on Thursday in Texas, bringing his season mark to 2-4 with a 5.00 ERA in 11 starts. Prior to Thursday, McCarthy had a run of three starts in which he went 2-0 with a 0.38 ERA, including a career-high 18-inning scoreless streak.
How long McCarthy will be out remains to be seen. He is scheduled to return to Phoenix on Sunday and will have an MRI taken on Monday, at which time he will visit with D-backs team physician, Michael Lee.
In the past, McCarthy has missed up to three months with the injury, but he is hopeful that it won't be as long this time.
"What we've gone with the last two years is we wait until there are no symptoms and then take another two days after that and then start throwing again," McCarthy said. "The whole problem with all of this is, that would be great, then I'd be out for 10 days and then I could go. But if you take 10 days off, you have to throw for another couple of weeks and build back up. And then a rehab start or two is another 10 days. Time adds up that way."
Steve Gilbert is a reporter for MLB.com. Follow him on Twitter @SteveGilbertMLB. This story was not subject to the approval of Major League Baseball or its clubs.