Corbin named National League Pitcher of the Month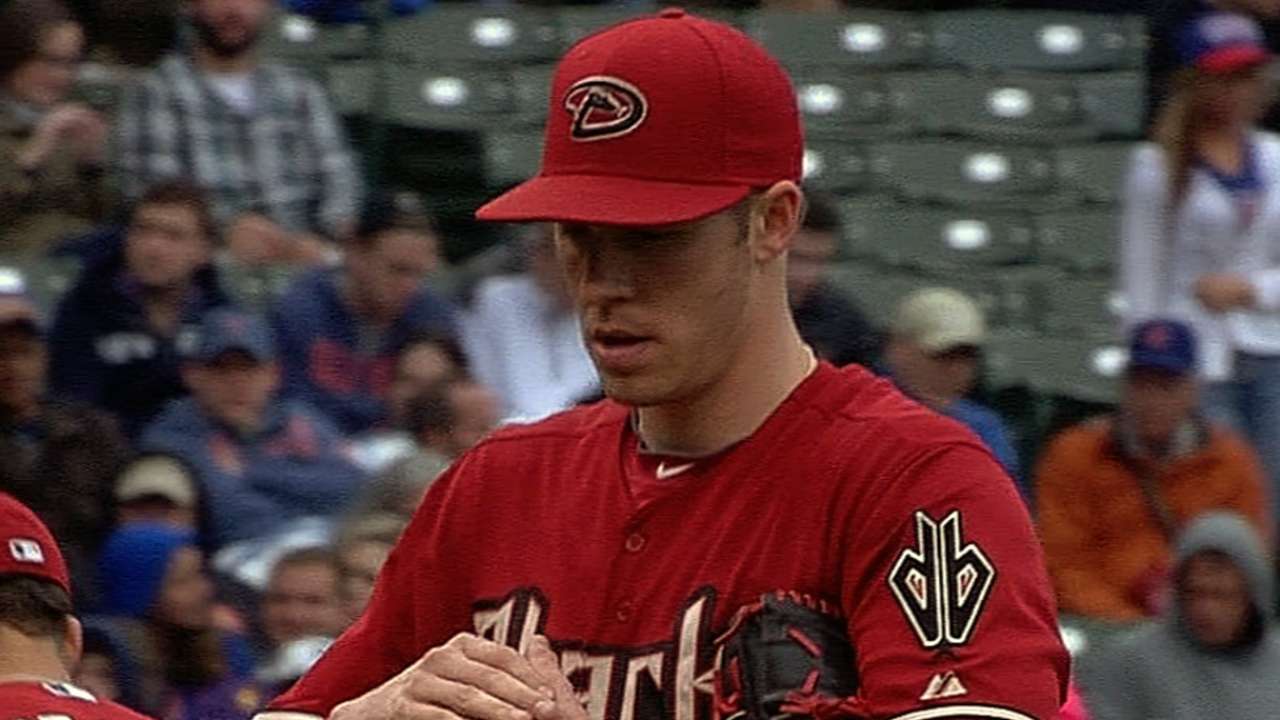 ST. LOUIS -- Right after informing Patrick Corbin that he had been named National League Pitcher of the Month, D-backs manager Kirk Gibson had a suggestion for the left-hander.
Gibson believes that a person should continue to set goals and must be vigilant against complacency.
"You kind of think about how your mind works when you get awards or you set goals or you experience success -- it's dangerous because you can kind of hit a dull spot in your productivity line," Gibson said. "So you have to immediately set another goal or have another vision, and I thought the next vision would be the MVP of the World Series. [That] would be a good one for Patrick and everybody else in this clubhouse. That means they've done well individually and we've won the World Series."
Corbin was 5-0 with a 1.53 ERA, the best mark among NL qualifying pitchers, and he allowed just a .180 batting average against.
With the words of his manager ringing in his ears, Corbin emphasized what lies ahead rather than what he accomplished.
"It's pretty neat," Corbin said. "I just want to go out there and do my best every start and improve on it, and try to take it through the rest of the season. I mean this is a nice award and everything, but I just want to just try and continue it. A lot of starts left, and I'm just looking forward to my next start."
Corbin struggled a bit in his last start against the Cubs on Sunday when he allowed four runs in just six innings.
"Every start he goes out there he learns," Gibson said. "He's becoming a better pitcher. Maybe he gave up some runs those last couple of starts, but he's a better pitcher, I'm telling you that right now. He has a better understanding; [he's] going to be better prepared to work through situations."
Corbin's 9-0 record ties him with Brandon Webb for the most consecutive wins to start a season. No Arizona pitcher has ever won 10 to start a season.
Corbin beat out Tyler Skaggs and Randall Delgado for the No. 5 spot in the rotation this spring, and one of the things the organization likes best about him is his mental toughness and ability to handle pressure.
"I think no matter how I go out there and throw, whether it's a bad game or a good game, I try to stay level headed and just try to be myself and do what I've done to get to this point and try to improve from start to start and make sure I'm ready for each start," Corbin said.
Steve Gilbert is a reporter for MLB.com. Read his blog, Inside the D-backs, and follow him on Twitter @SteveGilbertMLB. This story was not subject to the approval of Major League Baseball or its clubs.