D-backs follow best-player-available philosophy
D-backs follow best-player-available philosophy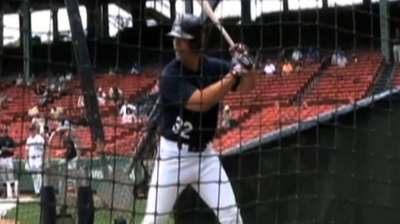 PHOENIX -- Drafting by what is needed at the Major League level, especially after the first couple of rounds, isn't much of a concern for D-backs scouting director Ray Montgomery.
Sure, sometimes it works out that way, but for Arizona, it's more about taking the players, regardless of position, whom scouts target as the best available.
The D-backs applied that philosophy in full effect on Friday, selecting five position players and three pitchers during the second day of the 2013 First-Year Player Draft.
"Need-based is so hard and broad as it relates to what we're doing," Montgomery said. "In some cases, we have to, but it's certainly not the driving force. We get really comfortable with a lot of the picks. Our familiarity with some of the players ranges four or five years working on them."
A prime example of the D-backs' Drafting strategy happened early Friday, when the club selected Georgia Tech first baseman Daniel Palka with its third-round pick. With early-season MVP candidate Paul Goldschmidt locked up until 2019, Arizona didn't exactly need a first baseman, especially an advanced one from college, but the club was so impressed with Palka that it pulled the trigger on him.
Taken 88th overall, Palka has about as much raw power as anyone in the class and showed an ability to use it well during games from the left side of the plate.
He hit .342 for the Yellow Jackets this season, launching 17 home runs and driving in 66 runs. Palka also displayed gap power, tallying 13 doubles and three triples this year. There is some swing and miss to Palka's game, striking out a team-high 60 times in 2013, but he makes enough contact to put his power into play.
"That's the one thing Daniel has always done," Montgomery said of Palka's pop. "He's a big physical kid with big left-handed power. He's produced at Tech and in the summer. It was an appealing pick for us and we're happy to have him."
Aside from manning first base, Palka also played some outfield in college, but the D-backs view him as a first baseman moving forward into professional baseball, although he could profile as a power-hitting corner outfielder in the future.
"We like him more at first, but certainly the flexibility there helps," Montgomery said.
The Phillies previously drafted Palka in the 19th round in 2010, and he was a 2013 third-team Louisville Slugger All-American.
Once the D-backs landed a power bat in Palka, they moved on to a trio of defensive-minded players who hit more for contact at the plate. The club took center fielder Matt McPhearson out of Riverdale Baptist School in Maryland in the fourth round, then local product Jamie Westbrook, a shortstop from Basha High School in Chandler, Ariz., in the fifth. After grabbing another center fielder in Colin Bray from Faulkner State Community College (Ala.) in the sixth, Arizona finally selected its first pitcher of the day, Daniel Gibson, a left-handed reliever out of Florida.
Rounding out the busy day for the D-backs was Flowery Branch High School (Ga.) right-hander Brad Keller, Saint Louis University catcher Grant Nelson and Oregon right-handed reliever Jimmie Sherfy.
"There are a lot of good players that come from this part of the Draft," Montgomery said. "Hopefully, we got another Adam Eaton in there."
Day 3 of the Draft continues with Rounds 11-40 streamed live on MLB.com on Saturday, starting at 11 a.m. MST.
MLB.com's coverage includes Draft Central, the Top 100 Draft Prospects list and Draft Tracker, a live interactive application that includes a searchable database of Draft-eligible players. You can also keep up to date by following @MLBDraft on Twitter. And get into the Draft conversation by tagging your tweets with #mlbdraft.
In the Pipeline
If Palka eventually does move to one of the corner outfield spots, his path to the big leagues should clear up a bit. If he stays at first base, the road to the Majors isn't as clear, although the D-backs don't have any other highly regarded prospects at first outside of Brandon Drury, who is still in Class A South Bend and plays third base as well.
The two college relievers the D-backs took on Friday, Gibson and Sherfy, could ascend through the Minors relatively quickly given their amount of experience already and the fact that there is typically more consistent turnover in the bullpen.
Tyler Emerick is an associate reporter for MLB.com. This story was not subject to the approval of Major League Baseball or its clubs.