Hudson restarting comeback, will visit Dr. Andrews
Hudson restarting comeback, will visit Dr. Andrews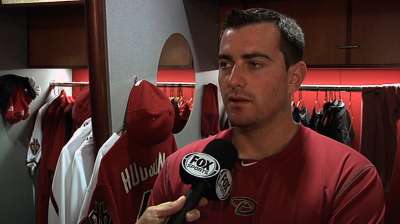 PHOENIX -- When D-backs right-hander Daniel Hudson learned he again tore his ulnar collateral ligament and needed a second Tommy John surgery in as many years to continue his career, the 26-year-old admitted he considered giving up on baseball.
"I'd be lying to you if I said all I thought about was getting it fixed," Hudson said. "I'd say for a good couple hours after I got the news I was 50-50, just because I didn't know if I could do it again mentally. It's another 12 months of watching baseball. I didn't even want to see anybody that day, I just sat in my house and tried to make sense of it."
After thinking it over though, Hudson came to grips with his situation.
"It was a tough few hours but people have it way worse than me, so I figured if I didn't try, I couldn't look myself in a mirror five years from now," he said. "I've lived a pretty blessed life. I figured I owed it to myself and everyone else to try again."
Still shaken by the injury but armed with a renewed sense of purpose, Hudson will visit renowned surgeon Dr. James Andrews in Birmingham, Ala., this week to get a second opinion, and if the injury is confirmed, Hudson will undergo another Tommy John surgery.
Hudson had the ligament replaced in July 2012 and was working his way back in rehab when he came out of a Minor League game last Tuesday after pitching two innings for Double-A Mobile in Jacksonville, Fla.
"I didn't think I'd be going through it again, not this early," he said. "It is what it is though, you have to try again."
The hardest part for Hudson to accept was how suddenly it happened. After nearly a year of rehab, the right-hander was just a few Minor League starts away from rejoining the D-backs.
"I was so close," he said. "There was nothing surgically wrong with the surgery, the tendon just wasn't strong enough and it snapped."
Hudson added that he didn't think the pace of his rehab had anything to do with the injury.
"I felt great, that's why it was so hard to explain," he said. "I hadn't had a setback so there is just no way to tell, nothing was done wrong rehab-wise or surgery, it just wasn't strong enough in the end. I wouldn't say we pushed it too hard, I was like three weeks ahead of 12 months, it wasn't like I was trying to come back in nine months."
Hudson hasn't pitched in a big league game since he was pulled because of the injury on June 26, 2012, at Atlanta. Now he won't return until sometime in the 2014 season at the earliest. Still, D-backs manager Kirk Gibson was glad that Hudson opted to go through the process again instead of retiring.
"I know that I retired in 1992 when I was released by the Pirates and I thought it was the right thing to do, but it wasn't and I regretted it," Gibson said. "I think he's young and he has an opportunity ahead of him."
In 381 1/3 career Major League innings, Hudson is 28-17 with a 3.68 ERA.
Tyler Emerick is an associate reporter for MLB.com. This story was not subject to the approval of Major League Baseball or its clubs.