D-backs weigh options for Tuesday's starter
D-backs weigh options for Tuesday's starter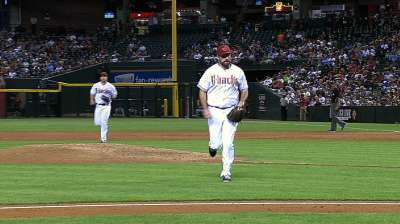 SAN DIEGO -- The D-backs are still weighing their options for a starting pitcher to take Brandon McCarthy's place Tuesday against the Marlins.
D-backs manager Kirk Gibson said he wanted to see what the team used from the bullpen during this weekend's series against the Padres before making any final decisions. Tyler Skaggs had filled in twice but was optioned Monday, so the team must wait until Thursday before making another roster move with him.
The team could start someone from its bullpen, most likely right-hander Josh Collmenter. Or the D-backs could call up someone from the Minors.
"There's always options," Gibson said. "We'll have to weigh everything."
Gibson spoke about a couple of Minor league options, such as Randall Delgado, who appeared in one game for Arizona this season, lasting two innings and allowing two runs against the Cardinals on June 3. Delgado also struck out three, so Gibson knows he can pitch well enough in the Majors, but he also wants him to work on being more consistent.
"He's got a good lever in his arm, good life in his arm and in his fastball," Gibson said. "I just thought he was aiming it too much. Location is everything. Maybe it's just a process with him getting the feel for the strike zone and kind of getting his arm a little freer and a little life on it."
Gibson was cautious to use Collmenter for a couple of reasons -- the first being the hole it would leave in the bullpen.
"You take him out of his role, he's as good as anybody in his role in the big leagues," Gibson said. "So you're taking someone out who's very good, and really you give yourself a great chance of wining those ballgames. You get a long guy who's capable of shutting those guys down."
Collmenter is 3-0 with a 2.86 ERA in 34 2/3 innings as a long reliever this season.
"Part of the beauty of him is he comes in after somebody else," Gibson said. "He's a different-style pitcher. He's got a different arm slot ... that's part of his success."
Gibson also wondered what the D-backs would do to replace Collmenter in the bullpen.
"If you take him out of that role, then you're asking him to do a new role, and you're asking somebody to fill his role," Gibson said.
"So it's not as clear as it might seem."
Jamal Collier is an associate reporter for MLB.com. This story was not subject to the approval of Major League Baseball or its clubs.