Bullpen role requires adjustments by Spruill
Bullpen role requires adjustments by Spruill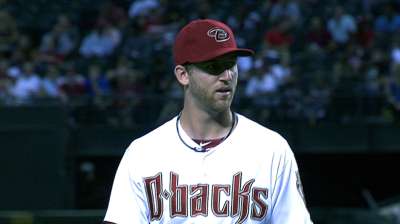 PHOENIX -- Before making his Major League debut out of the bullpen Friday, Zeke Spruill had not pitched in relief in a regular-season game since 2010, when he was still in Class A. But that did not mean he was lacking experience as a reliever.
In Spring Training the last two seasons, Spruill pitched exclusively out of the bullpen. This year in D-backs camp, the right-hander worked seven Cactus League innings, allowing just one earned run on four hits.
"You have to adjust some, but I got used to it in Spring Training," Spruill said. "So when I got called up, I tried to recall whatever I did then and implement it here."
Spruill gave up a hit to the first batter he faced Friday but retired the next three Reds he faced to get out of the inning.
"It's really not much different for me," he said. "I get ready fast when I start, so I go through the same routine out of the bullpen; I just shorten it down a little bit."
As for whether Spruill paces himself differently when he knows he will toss only one inning, Spruill said, "I'm 100 percent effort every time I'm out there."
Spruill got his second taste of action in Sunday's 4-2 loss to the Reds, working 1 1/3 clean innings of relief and striking out one. He walked two batters but worked out of a jam by inducing a double play.
Tyler Emerick is an associate reporter for MLB.com. This story was not subject to the approval of Major League Baseball or its clubs.