Gibson talks about tough call to designate Hinske
Gibson talks about tough call to designate Hinske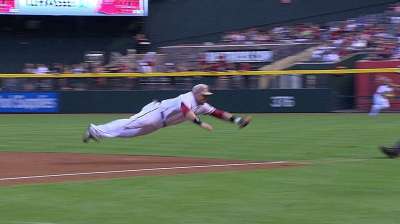 ATLANTA -- D-backs manager Kirk Gibson called infielder Eric Hinske into his office before batting practice Friday night to let him know he was being designated for assignment in order to make room on the roster for Eric Chavez.
It was not an easy conversation.
"Probably, since I've been managing, it's the toughest one I've ever done," Gibson said. "He was well-liked, loved him, did everything we asked."
Hinske started just three games for the D-backs, and was used extensively as a pinch-hitter.
"I put him in a tough position," Gibson said. "Had 52 at-bats and didn't get any regular playing time, and I asked a lot of him. He gave everything he had. I told him not to be a stranger, and I hope to see him around."
Hinske's days in the Arizona organization may not be over. It's possible that Hinske could accept a Minor League assignment if he clears waivers.
"He was classy about it," Gibson said. "He understands what goes on, but I know when I got released in '92 how it feels. You're just somewhat stunned, somewhat numb and it's not something you ever forget. So while I'm doing it, I remember that day. But you know what? It's up to him. He's got more baseball in him if he chooses to. He's been designated now, and I think he goes on waivers Monday, and then if he clears, then it's possible that he could rejoin our organization in a different capacity."
Unless Hinske is claimed by another team, the D-backs are on the hook for the rest of the $1.35 million contract he signed during the offseason.
Steve Gilbert is a reporter for MLB.com. Read his blog, Inside the D-backs, and follow him on Twitter @SteveGilbertMLB. This story was not subject to the approval of Major League Baseball or its clubs.