Sipp's friends, family leave big impression in Atlanta
Sipp's friends, family leave big impression in Atlanta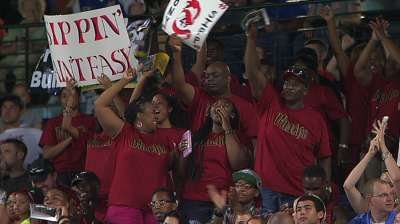 ATLANTA -- It was just one game out of what will be 162 games for the D-backs this year and just one of the dozens and dozens of appearances that reliever Tony Sipp figures to make in 2013.
But it's an appearance he'll likely remember forever.
Sipp worked just one third of an inning Friday night and allowed one hit.
Just a routine outing, except he was doing it front of just about everybody who means anything to him.
More than 100 people made the 5 1/2-hour journey from Sipp's hometown of Moss Point, Miss., to watch him, many renting a chartered bus for the trip. Sipp left 73 tickets, which he had to borrow from teammates since the game was sold out, and that did not even cover everyone who came or wanted to come.
"It seemed like everyone that I've ever known in life was here," Sipp said.
Sipp's grandmother is a diehard Braves fan and he wasn't sure what she would be wearing, but he was pleased to see her wearing D-backs gear for the night.
"I think it helps having them there and having their support," Sipp said. "You want to do well in front of them, but obviously you can't do well all the time, so you just try to go out and do what you've always done. Just go out there with your best stuff and don't try to overcomplicate things just because they're there. Once it's all said and done and you take a breath after your last pitch, that's a good feeling."
Saturday was a different story as Sipp was unable to have the same success allowing three runs and only recording one out.
That, though, won't take anything away from the memory of Friday night, when he acknowledged his cheering section as he walked off the mound.
"I tipped my cap to them and they went crazy up there," he said. "That was one of my better experiences on the diamond, a moment I wouldn't trade for the world."
Steve Gilbert is a reporter for MLB.com. Read his blog, Inside the D-backs, and follow him on Twitter @SteveGilbertMLB. This story was not subject to the approval of Major League Baseball or its clubs.