Until Putz is sharp, Bell reinstalled as closer
Until Putz is sharp, Bell reinstalled as closer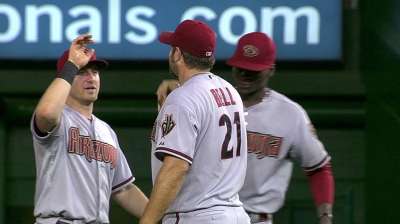 NEW YORK -- Heath Bell is back in the closer's role for the D-backs.
After watching J.J. Putz blow his first save opportunity since he was activated from the 15-day disabled list in Monday night's 5-4, 13-inning loss to the Mets, D-backs manager Kirk Gibson decided to make the change Tuesday.
"Since he's been back, the ball hasn't come out of his hand the way it can," Gibson said. "Just not only with his fastball, but with his split, he just doesn't have the arm speed right now. We're going to use him in different type of situations and try to get his arm strength up. Maybe his arm is a little dead right now."
Putz was on the DL from May 8 until this past Saturday with a strained right elbow.
While both Putz and Gibson say the right-handed reliever is healthy, Putz is not at the top of his game, and so for now, Bell will get most of the save opportunities.
"I think it's just a matter of allowing me to get more innings without the game on the line," Putz said. "I think it's a good idea. I don't think it's fair to the rest of the guys to be out there with the game on the line when you're not feeling 100 percent and not be able to execute your pitches the way you want to. Hopefully after a week or so of this, things will build up."
With the D-backs' bullpen reeling these days -- overall the 'pen is 22 out of 38 save chances, with its 16 blown saves tying them for the Major League lead with the Dodgers, Cubs and Orioles -- the roles will be a little fluid.
Gibson said Tuesday that it's possible with Putz pitching in lower-leverage situations and usual eighth-inning reliever David Hernandez struggling, that he might use long man Josh Collmenter more later in games.
Steve Gilbert is a reporter for MLB.com. Read his blog, Inside the D-backs, and follow him on Twitter @SteveGilbertMLB. This story was not subject to the approval of Major League Baseball or its clubs.