Rare day off for Goldschmidt earns ribbing
Rare day off for Goldschmidt earns ribbing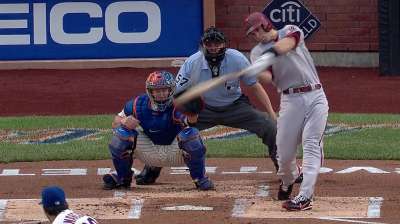 NEW YORK -- Paul Goldschmidt rarely gets days off, and given all the grief his D-backs teammates gave him for being out of the lineup Wednesday night, he probably would have rather played.
Coming into Wednesday, Goldschmidt, who had not started two games all year and entered one of those two later on, was given the day off against Mets ace Matt Harvey. The last time Goldschmidt was not in the lineup was Game 2 of a doubleheader on May 27.
D-backs manager Kirk Gibson did not ask Goldschmidt if he wanted a day off, he simply told him that's the way it was going to be.
"He's getting an off-day," Gibson said. "I've been thinking about it, been talking about it. Just watching him and seeing some certain things. Just think it's time."
Shortstop Cliff Pennington decided to have some fun with the news, giving Goldschmidt a bottle of vitamins. The bottle's label was covered with athletic tape, and on it, Pennington wrote "Harvey-itis."
Below that, Pennington scribbled, "Symptoms: excess velocity, sharp curves and disappearing changeups."
"They're giving me a hard time," Goldschmidt said. "It's all in good fun."
Goldschmidt planned to take it a little easy pregame, but he also said he was going to be ready if needed during the game.
"You just try and just relax a little bit and enjoy it at least for the first few innings, and then get ready if you have to come into the game at the end," he said.
Goldschmidt has not faced Harvey before and had been looking forward to the challenge.
"I think as a hitter, you definitely want to test yourself against the best," Goldschmidt said. "And he's one of the best, if not the best, in the National League right now."
Steve Gilbert is a reporter for MLB.com. Read his blog, Inside the D-backs, and follow him on Twitter @SteveGilbertMLB. This story was not subject to the approval of Major League Baseball or its clubs.