Bloomquist diagnosed with broken hand
Bloomquist diagnosed with broken hand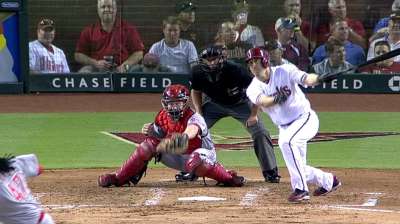 PHOENIX -- Following an uplifting 5-0 victory over the Rockies, the D-backs were left with a sour taste in their mouths Friday night as the club found out Willie Bloomquist will miss 6-8 weeks with two broken bones in his left hand.
The veteran shortstop sustained the injury when he was hit on the hand by a pitch on June 26 and the D-backs placed him on the 15-day disabled list on Wednesday retroactive to June 28. Initial X-rays were negative, but a CT scan examined Friday by hand specialist Dr. Don Sheridan revealed the broken bones.
"I had a suspicion that's what it was," Bloomquist said. "It's frustrating, it sucks. It's another challenge I have to overcome, but these things happen. I'm confident I'm going to come out okay."
Bloomquist said one of the broken bones is identical to the one that D-backs second baseman Aaron Hill broke earlier this season. Like Bloomquist, Hill was hit in the hand by a pitch in April, and while initial X-rays were negative, a CT scan later showed the fracture, and he missed more than two months.
Bloomquist's other broken bone is located near his thumb. He was batting .292 (21-for-72) this season with nine runs and eight RBIs. The 35-year-old missed the first two months of the season with an oblique injury.
Tyler Emerick is an associate reporter for MLB.com. This story was not subject to the approval of Major League Baseball or its clubs.