Fans help set record in charity raffle for firemen
Fans help set record in charity raffle for firemen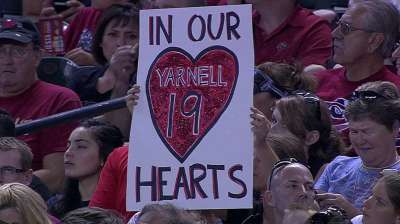 PHOENIX -- Raising money for the victims of the deadly Yarnell wildfire in Northern Arizona, the D-backs sold a record-setting $100,049 in 50/50 raffle tickets during the club's game with the Rockies at a sold out Chase Field. Fans smashed the previous record of $35,757 set on Opening Day this season.
All of the proceeds will benefit the 100 Club of Arizona, American Red Cross, Prescott Firefighter Charities and other charities that will assist in the rebuilding efforts. Nineteen firefighters lost their lives on Sunday while battling the flames.
The team donned No. 19 patches on their jerseys Friday and a large black No. 19 was painted behind home plate.
The D-backs will donate the proceeds from the 50/50 raffle on Saturday and Sunday to the support efforts as well.
Tyler Emerick is an associate reporter for MLB.com. This story was not subject to the approval of Major League Baseball or its clubs.