D-backs look for Eaton to add a spark
D-backs look for Eaton to add a spark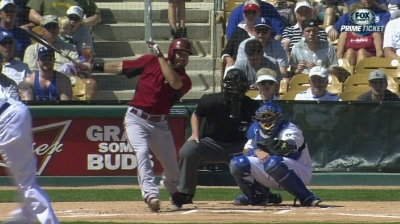 PHOENIX -- Outfielder Adam Eaton walked into the D-backs clubhouse just before batting practice Monday, wheeling his luggage from a Minor League rehab stint.
Eaton's return was a bit ahead of schedule, but for him it's been long overdue.
During Spring Training, Eaton suffered a strained elbow and he started the year on the disabled list. During his first rehab stint, he suffered a setback when he felt pain in the elbow while making a throw. That came just days before he was expected to return.
"It only hurt on one throw and it's felt great ever since," Eaton said. "I'm very excited for the opportunity and hopefully I can stir it up a little bit and get things going."
Eaton had projected to be the D-backs' leadoff hitter heading into Spring Training, and the team is hopeful that his addition will provide a spark before the All-Star break.
"There's an element that he brings that we all saw in Spring Training before he got hurt, and it's time to see if he can withstand the daily grind," D-backs manager Kirk Gibson said. "Try to get him to that point and hopefully he's healthy for the rest of the year and can contribute in the way we think he can."
While his return may have been a few days ahead of schedule, the D-backs do not think there was any more to be gained by having him remain in the Minors.
"He shouldn't hurt it," Gibson said of Eaton's elbow. "But if he does we'll know that he has to have surgery."
Tuesday's game was the 90th of the year for the D-backs, but for Eaton it was Game No. 1.
"Definitely feels like Opening Day," Eaton said. "A well deserved Opening Day."
Right-hander Charles Brewer was optioned to Triple-A Reno to make room for Eaton.
Steve Gilbert is a reporter for MLB.com. Read his blog, Inside the D-backs, and follow him on Twitter @SteveGilbertMLB. This story was not subject to the approval of Major League Baseball or its clubs.