Gibson likes Putz's progress
Gibson likes Putz's progress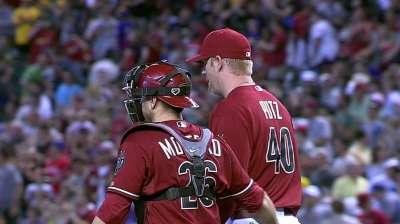 PHOENIX -- D-backs manger Kirk Gibson said J.J. Putz is throwing the ball better every time he pitches, but he isn't ready to insert the veteran back into the closer's role.
"He's a work in progress right now," Gibson said. "His velocity is good; his splitter is really good; he's keeping the ball down. He's coming along; he has worked well."
Putz missed nearly two months with an elbow injury then blew a save in his second appearance off the disabled list on July 1, prompting Gibson to rearrange his bullpen again while the right-hander figured things out. Since then, Putz has worked 2 1/3 scoreless innings while his velocity has ticked back up to around 93 mph.
Tyler Emerick is an associate reporter for MLB.com. This story was not subject to the approval of Major League Baseball or its clubs.