Harris on impressive run out of D-backs bullpen
Harris on impressive run out of D-backs bullpen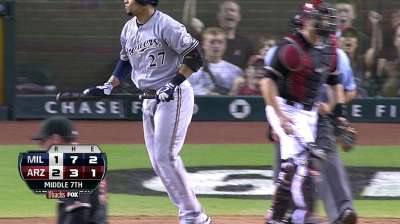 PHOENIX -- In a bullpen that has been the focus of much criticism in 2013, Will Harris has stood out as an unsung hero. Since May 22, the right-hander has been flat-out dominant, posting a 0.96 ERA with 23 strikeouts over 18 2/3 innings through Friday.
But all the success is somewhat new to Harris.
In 20 games with the Rockies last season, his first in the Majors, Harris allowed 18 runs (16 earned) over 17 2/3 innings.
So what's been the difference this year? According to FanGraphs, Harris' average fastball velocity is 1.3-mph higher than last season (from 91.1 to 92.4), while his cutter is 1.9-mph quicker (from 90.1 to 92.0).
Although he isn't sure of the exact reason for the uptick, Harris thinks at least part of it stems from the work he put in while recovering from Tommy John surgery in 2009.
"Not really throwing for a few years, last year was really my first year healthy, and I think the further I've removed myself from that, the arm strength has built over time," said Harris, 28. "Not so much that the ligament makes you throw harder, it's the workout regimen in the training room that makes you get more out of your arm than maybe you knew you had.
"I'm happy with where it's at, I have my days where it's tired, but for the most part, I'm right where I hoped I'd be."
Because of Harris' recent successes, the D-backs have begun using him in higher leverage situations. In each of his past two outings, the righty entered with the bases loaded in one-run games. Against the Dodgers on Wednesday, Harris induced a double play to escape the jam, and then on Friday, he struck out the lone batter he faced, Brewers All-Star Carlos Gomez, touching 95 mph on the radar gun in the at-bat.
Not bad for a guy whom the Rockies and A's put on waivers back in April.
"This has definitely been the best-case scenario for me," he said. "If you would've told me that in mid-July I'd be on a big league roster for a team in first place, I would've been stoked."
Tyler Emerick is an associate reporter for MLB.com. This story was not subject to the approval of Major League Baseball or its clubs.