Reynolds cleared to play catch, test elbow
Reynolds cleared to play catch, test elbow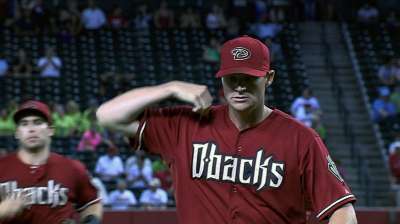 PHOENIX -- After six weeks of doctor prescribed inactivity, D-backs reliever Matt Reynolds is scheduled to throw Wednesday for the first time since he incurred a slight tear in the ulnar collateral ligament of his left elbow on June 11.
Reynolds will be examined by team physicians in the afternoon and barring any unforeseen issues, he'll begin a throwing program that will eventually end with a Minor League rehab assignment.
Although Reynolds will only be playing catch Wednesday, picking up a baseball again marks a big first step for the southpaw, who initially thought he might need Tommy John surgery to repair the elbow.
"It'll be exciting to get out there and start doing what I'm here to do," Reynolds said. "It feels like it's been a whole offseason since I've thrown."
Prior to this year, the 28-year-old had never been on the disabled list before, which made being idle the last month-and-a-half test his patience even more.
"It's been tough to be on the sideline and just watch them," Reynolds said. "I'm essentially a glorified cheerleader. You try to keep focused and understand that the final goal is to be back on the field, and that's what I'm working towards. These are my guys, and I want to go out there and battle with them."
Before hitting the DL, Reynolds was arguably the most consistent performer in the D-backs' bullpen, posting a 1.98 ERA in 30 games and working 19 consecutive scoreless outings to start the season.
Tyler Emerick is an associate reporter for MLB.com. This story was not subject to the approval of Major League Baseball or its clubs.