Gibson plans to lighten Miggy's workload
Gibson plans to lighten Miggy's workload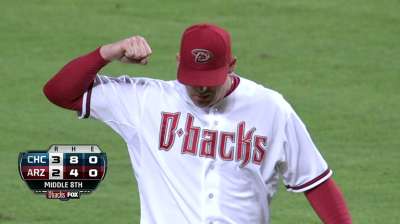 PHOENIX -- While preparing for a potential pinch-hit scenario, D-backs catcher Miguel Montero tweaked his back swinging in the cages during Tuesday's game and subsequently was not in the lineup Wednesday for the second consecutive day.
The 30-year-old underwent an MRI on Wednesday and the D-backs are listing him as day to day.
"He had a stiff back, so we're just going to give him another day," D-backs manager Kirk Gibson said.
The two days off marks the first time this season Montero has sat multiple games in a row. Entering Wednesday, his 778 innings behind the plate in 2013 were the most in baseball by 25 innings over the next closest catcher, Yadier Molina.
Gibson added that when Montero does return to the lineup, he will begin to receive more regular rest.
"We've ridden him pretty hard," Gibson said. "We're probably not going to do it that way right now. It's probably not going to be as much. We'll try to get Wil [Nieves] more time."
Montero is currently in the first season of a $60 million, five-year contract he signed last May and the D-backs want to make sure they don't push him too hard.
"He's never going to say no, but even a little bit of rest goes a long way," Nieves said. "We want him healthy the next five years, we want him 100 percent. I'm not saying put him on the bench, but it's tough catching so much. It's hard for him not to be in the lineup but it's good for him."
After hitting .282 in 2011 and .286 in 2012, Montero has labored all season at the plate, batting just .226, his lowest average since his first full year in the Majors back in 2007.
Nieves, who has played for six different organizations over his decade-long career, said he has never seen a backstop be worked as hard as Montero has this year.
"I told Miggy in Spring Training, 'You're young, but you're going to need some rest.'" Nieves said. "If you can have a backup that can catch those day games once a week, for him and the team, it helps a lot. He'll have more energy when he's in there."
Tyler Emerick is an associate reporter for MLB.com. This story was not subject to the approval of Major League Baseball or its clubs.