Montero listed as day to day but feeling good
Montero listed as day to day but feeling good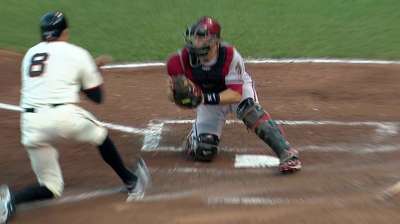 PHOENIX -- For the third consecutive game Wednesday, D-backs catcher Miguel Montero was out of the lineup as an MRI revealed inflammation in his back. The injury isn't considered serious at this point and the club is listing him as day to day.
"They just want to take it a little bit slow," Montero said. "I'm not concerned because I feel good, I've played with a lot more pain than what this is."
Montero hurt his back during Tuesday's game while taking swings in the cages in preparation for a potential pinch-hitting scenario. The 30-year-old didn't take batting practice Thursday, but he expects to return to normal baseball activities on Friday.
"It's nothing serious, I feel good. I want to go out and hit," he said. "Yesterday, I came in and said I felt good to play and today is even better than yesterday. They just want to take it slow, but I'm good to go."
In the meantime, while Montero's back heals, D-backs manager Kirk Gibson said he isn't sure if the catcher will be available to pinch-hit for the club. In Wednesday's 12-inning game, Patrick Corbin took a pinch-hit at-bat with Montero still available off the bench.
"I was advised that it probably was smart that we don't use him in the game," Gibson said. "It's possible he could catch, he's still an option in an emergency. As far as the hitting goes, I don't know if that's an option, but it could be."
In recent days, Gibson has said that when Montero does return to the lineup, he plans to give Montero more consistent rest throughout the remainder of the season. Montero, who leads the Majors in innings caught with 778, didn't think his heavy workload led to the injury.
"I prepare to play many games and I've proven that I can do it the last couple years," he said. "Just because this happened, it doesn't mean that I'm tired. I haven't gotten on base much, so it can't be that."
Tyler Emerick is an associate reporter for MLB.com. This story was not subject to the approval of Major League Baseball or its clubs.