Parra receives Heart and Hustle Award
Parra receives Heart and Hustle Award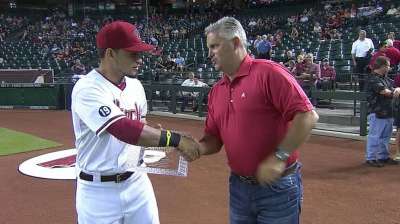 PHOENIX -- For anyone that has watched Gerardo Parra roam the D-backs' outfield this season, it's easy to see the all-out effort the 26-year-old displays on a nightly basis.
So it came as no surprise Thursday when Parra was selected as the D-backs' recipient of the Major League Baseball Players Alumni Association's Heart and Hustle Award.
Chosen by a panel of alumni players, the award honors active players who demonstrate a passion for the game of baseball and best embody the values, spirit, and tradition of the game. One player from each Major League team is chosen, then as the season draws to a close, fans, alumni and active players will vote to select the final winner from the 30 team winners, which will be announced November 19 at the 14th Annual MLBPAA Legends for Youth Dinner in New York City.
The most memorable example of Parra's steadfast determination this year came when he tried to make a running catch against the Mets on July 1, but crashed into the outfield wall and walked away from the incident bruised and bloodied.
Despite clearly being shook up by the collision, Parra fought tooth and nail to stay in the game before D-backs manager Kirk Gibson eventually pulled him.
"It was like he got in a car accident," Gibson later said. "He sacrificed himself."
Parra wasn't happy with his manager's decision, but that only speaks further to the insatiable drive that has made him a mainstay in the D-backs' lineup in 2013.
"The point is to play every day," said Parra, who's batting .277 with 53 runs this season. "I don't like a day off. I don't like anything like that."
Tyler Emerick is an associate reporter for MLB.com. This story was not subject to the approval of Major League Baseball or its clubs.