Eaton learns from successful mistake
Eaton learns from successful mistake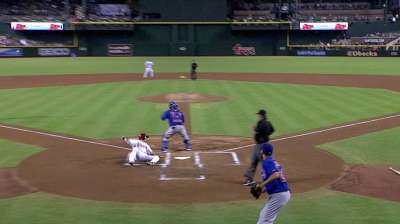 PHOENIX -- D-backs outfielder Adam Eaton ran through a stop sign from third-base coach Matt Williams on Thursday night, drawing some good-natured teasing, but also some serious advice.
Eaton led off the bottom of the first with a walk, and when Aaron Hill followed with a double to the left-field corner, Eaton came barreling around third base and ran right by Williams, who had his hands up, signaling him to hold up at third as the Cubs' relay throw came in.
Thankfully, for Eaton's sake, left fielder Cole Gillespie missed the cutoff man with his throw, and Eaton was safe.
D-backs manager Kirk Gibson was seen talking to Eaton in the dugout after the play.
"He's good to go all the time, but it wasn't a very smart play, we got away with one there," Gibson said. "Kid is just trying to do good. You don't want to criticize him for the effort, but at the same time he's got to be smart with that and pick up his coach early on."
The smart play in the first inning with no one out would have been to stop at third.
"It wasn't a good play on my part," Eaton said. "You need to stop there, especially first inning."
Eaton did not actually see Williams until he was literally running right past him.
"I was kind of reading it on my own, and literally the first time I saw him I had touched third and was rounding third," Eaton said. "I need to pick him up a little sooner. I'm glad it worked out, but definitely going forward I've got to pick him up sooner."
Steve Gilbert is a reporter for MLB.com. Read his blog, Inside the D-backs, and follow him on Twitter @SteveGilbertMLB. Tyler Emerick is an associate reporter for MLB.com. This story was not subject to the approval of Major League Baseball or its clubs.