McCarthy scheduled to join D-backs in Boston
McCarthy scheduled to join D-backs in Boston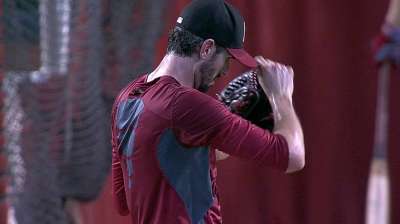 A day after Brandon McCarthy completed his rehab stint with Triple-A Reno, D-backs manager Kirk Gibson announced the right-hander will rejoin the club's rotation in Boston next week and pitch in place of Tyler Skaggs, who was optioned to Reno following his rough outing Saturday night.
On the disabled list since June 1 with right shoulder inflammation McCarthy threw 85 pitches over six innings on Friday in Reno, allowing three runs (two earned) on six hits.
"It was good, honestly, everything was there," McCarthy said. "I felt comfortable and I was able to get back into mental game shape. Nothing bothered me. I was able to get into the sixth and felt strong. I felt like I had more in the tank, too, so that was encouraging. In terms of pitching, I feel like I'm where I need to be."
McCarthy believes he'll be able to jump right back into the swing of things, especially since he has gone through the same recovery process with his shoulder several times in his career, including twice last season.
"The first time or two I went through this, I came back and was garbage because it feels like Game 7 of the World Series when you come back, you're amped and there's too much energy," he said. "Now I feel like when I come back again, it's just a normal start."
With the Trade Deadline approaching, McCarthy hopes he and Trevor Cahill (right hip), who isn't far behind, can give the D-backs a lift similar to if the club acquired a player via a trade.
McCarthy is 2-4 with a 5.00 ERA in 11 starts while Cahill has gone 3-10 with a 4.66 ERA.
"We sucked in the first half, there weren't a lot of positives except for a few starts here and there," McCarthy said. "So I think it's a point of pride for both of us to come back and pitch well. If you go out and trade for someone, it is kind of a slight. I get it, but just from a point of pride, you want to be that guy. If you want to call it a deadline acquisition, I think that's fair."
Tyler Emerick is an associate reporter for MLB.com. This story was not subject to the approval of Major League Baseball or its clubs.