Towers talks division race, top prospects
Towers talks division race, top prospects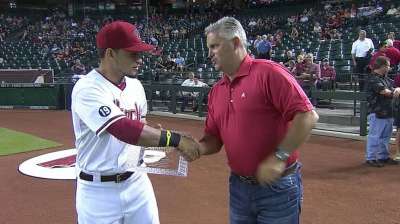 PHOENIX -- The Dodgers trailed the D-backs in the National League West standings by 9 1/2 games on June 21.
Entering Tuesday's action, the D-backs trailed the Dodgers by 7 1/2 games, a stunning turnaround.
"It is what it is," D-backs general manager Kevin Towers said. "Now, we've just got to win games. If we're going to sit there and wait for the Dodgers to lose games, I don't think it's going to happen. We just have to win enough games to either get in as a Wild Card or hopefully stay close enough to [the Dodgers] where when we're playing head to head we beat them. All you do is beat yourself up if you spend the last month watching the way they're playing."
Towers touched on a number of other topics Tuesday:
• Top prospect right-handed pitcher Archie Bradley will likely not be promoted from Double-A Mobile in September unless the D-backs are battling for a playoff spot and need him for a final push.
Bradley does not have to be added to the team's 40-man roster until after next season, and teams generally wait until they have to add a player to the 40-man.
"There's no need to rush," Towers said. "If we think he's ready and we're in the thick of things, he could be a difference maker. I don't foresee us bringing him up if we're not in it."
• Triple-A Reno shortstop Chris Owings could see some playing time at third base for the Aces while regular third baseman Matt Davidson is up with the D-backs.
"Not that we see him not being a shortstop, but to create more value for him," Towers said.
Steve Gilbert is a reporter for MLB.com. Read his blog, Inside the D-backs, and follow him on Twitter @SteveGilbertMLB. This story was not subject to the approval of Major League Baseball or its clubs.