Ross has hip surgery, aims for spring return
Ross has hip surgery, aims for spring return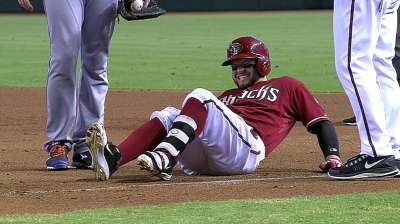 PHOENIX -- D-backs outfielder Cody Ross underwent successful surgery Tuesday to repair a fracture in his right hip.
The fracture happened Sunday when Ross dislocated his hip trying to beat out an infield grounder.
Arizona general manager Kevin Towers showed reporters a photo of Ross laying in his hospital bed following the surgery. In the photo, Ross has both his hands up near his mouth blowing an imaginary blow dart. It's something the D-backs hitters do when they get a big hit.
Towers also received a video of Ross up and moving around following his surgery, though, it will be a couple of months before he is able to do any weight-bearing activities with his right leg.
"He told me that the doctors thought that he probably could be ready next year, Spring Training," Towers said.
Towers was asked if he could think of another baseball player with a similar injury and he said that team physician Michael Lee told him he had seen the injury in football players, but never in a baseball player.
Steve Gilbert is a reporter for MLB.com. Read his blog, Inside the D-backs, and follow him on Twitter @SteveGilbertMLB. This story was not subject to the approval of Major League Baseball or its clubs.