Eaton: Tuesday's double play due to 'mental lapse'
Eaton: Tuesday's double play due to 'mental lapse'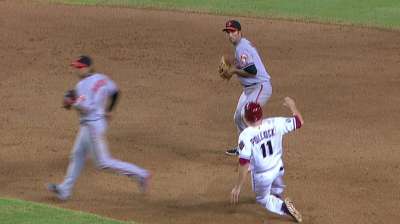 PHOENIX -- Adam Eaton was out of the starting lineup for Wednesday's series finale against the Orioles, but manager Kirk Gibson said it was not punishment for a play in Tuesday's game when Eaton did not run hard down the line on a double-play ball.
Gibson said Eaton was out of the lineup due to the matchup with Baltimore starter Chris Tillman.
In the 10th inning Tuesday with one out and a runner on first, Eaton hit a grounder to second. He ran hard out of the box, but then slowed to a trot before turning it back on when he got closer to the bag as the Orioles narrowly turned a 4-6-3 double play to end the inning.
"He didn't hustle last night and if I had a player [available], I would have removed him from the game," Gibson said. "He just a very emotional player, he's young and it's not something he'll do again. I promise you that.
"He's a great kid. At the same time, these are growing pains, this is part of what makes him good as well. You don't want to bury the kid, but at the same time you want to make note of that."
Gibson said that in his pregame session with reporters, though, he had yet to ask Eaton about the play.
Eaton, for his part, said the incident was more of a mental lapse on his part than a lack of hustle.
When he went up to the plate, he was aware there was only one out, but then he lost track during the at-bat.
"Once I got to a 3-1 count, I was more in my head about hitting and as soon as I hit the ball, for some reason I thought there were two outs," Eaton said. "You see me bust out of the box right away because I'm thinking they're going to go one with it, but as soon as they flipped it I kind of shut it down thinking there were two outs and that was the third out. I tried to turn it back on. Again, it was a mental lapse on my part.
"I wish that I wasn't so wrapped up in the at-bat and I would have remembered there was one out. I knew it going into the at-bat. It was just a mental lapse and it won't happen again."
Steve Gilbert is a reporter for MLB.com. Read his blog, Inside the D-backs, and follow him on Twitter @SteveGilbertMLB. This story was not subject to the approval of Major League Baseball or its clubs.