Dirt a key part of Prado's walk-off celebration
Dirt a key part of Prado's walk-off celebration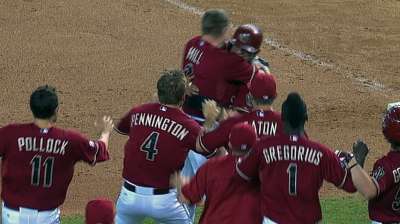 PITTSBURGH -- For the D-backs, it was quite a three-game series against the Orioles, with all three games ending in walk-off fashion.
And in each instance, Martin Prado was right in the middle of the celebration -- first dumping water and then putting dirt in the hair and down the neck of the player who picked up the game-winning hit.
"I don't understand the dirt-bath thing," D-backs second baseman Aaron Hill said after getting one following his game-winning single on Wednesday. "I really don't."
Turns out the water-and-dirt celebration is something that Prado brought with him from his days with the Atlanta Braves.
"You need something at the moment," Prado explained. "So we don't have shaving cream at that moment. So what do we have on a daily basis? Water and dirt and gum. We've got seeds, but you've got to open the bags, so no."
It turns out the first player that Prado got with the water-and-dirt treatment was former Braves legend Chipper Jones.
"He didn't like that," Prado said.
Of course that didn't deter Prado from continuing to do it to Jones and others.
"Here I feel like there's a few guys that don't like it," Prado said with a smile. "And I'm hoping every time they hit a walk-off homer I can get them with a lot of dirt."
"If it means winning a ballgame, I'll take it every time," Hill said.
Steve Gilbert is a reporter for MLB.com. Read his blog, Inside the D-backs, and follow him on Twitter @SteveGilbertMLB. This story was not subject to the approval of Major League Baseball or its clubs.