Putz looking like former self in different role
Putz looking like former self in different role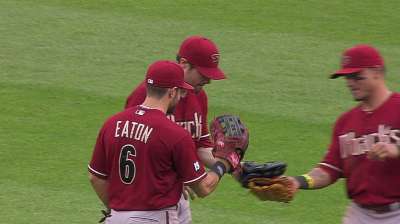 CINCINNATI -- J.J. Putz is starting to look like his old self again on the mound, but the D-backs reliever is not likely to move back into his old closer's role at the moment.
Putz spent seven weeks on the disabled list with a strained elbow, and when he returned June 29, his arm speed was not what it had been.
After Putz blew a save in New York on July 1, D-backs manager Kirk Gibson moved him into more of a matchup/setup role, with Brad Ziegler taking over as closer. Ziegler has gone 7-for-8 in save opportunities since.
"I think we'll leave it the way it is right now," said Gibson, adding that Putz lately has looked like he did before the elbow injury.
Putz has a 1.15 ERA in 20 games since coming off the DL.
"I feel more comfortable every time out, just command and stuff," Putz said. "Six weeks is a long time [to be out]. It's like going through Spring Training again. You have to rebuild from square one."
Putz has not complained about losing his closer's role, nor does he plan to.
"It would be one thing if you had guys that were filling in that were not the best teammates, but all the guys in our bullpen are good guys, guys you root for," Putz said. "I'm happy Zig is doing well in that position. If they decide to make the change to move me back in there, he's going to be fine with it, I'm going to be fine with it. If they decide to ride the season out the way it is, I'm not going to cause a ruckus or anything like that.
"I just want to do whatever we can to win games. I know it might sound cliché, but that's just the way I feel. That's the way I was taught to play this game."
Gibson appreciates that team-first approach, but he knows there is some pride involved as well.
"I guarantee you, in his inner self he's motivated to get that job back," Gibson said. "He's got to be."
After Putz got through explaining how he was fine with Ziegler being the closer, he broke into a smile.
"But I'm going to take it back from him next year, I'll tell you that right now," he said.
Steve Gilbert is a reporter for MLB.com. Read his blog, Inside the D-backs, and follow him on Twitter @SteveGilbertMLB. This story was not subject to the approval of Major League Baseball or its clubs.