Hill regains timing at plate after long DL stint
Hill regains timing at plate after long DL stint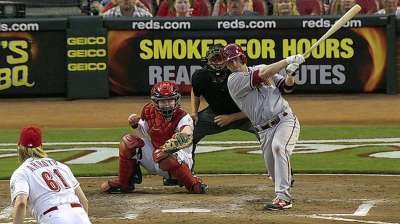 CINCINNATI -- D-backs second baseman Aaron Hill has been red-hot for the better part of a month now, something he attributes to finally being able to get into a rhythm at the plate.
Hill started off the season fine, but less than two weeks after Opening Day, he was hit on the left hand by a pitch from the Pirates' James McDonald. He tried to play through the injury but was finally diagnosed with a broken bone, and he spent more than two months on the disabled list.
"I think it's tough for anybody to come back after missing that amount of time and get into a rhythm," Hill said. "Baseball is all about getting into a rhythm and finding what works. Every year is going to be different, so you've got to just find what's going to make you comfortable in the box and just keep going with it."
It took Hill a while to find that comfort zone, and his average dipped to a low of .262 on July 24.
"No doubt it was a tough task for him," D-backs manager Kirk Gibson said. "He's got his legs back, he feels much better, swinging much better, too."
Since that time, Hill has hit .395 with five homers and 18 RBIs to bring his season average to .316 heading into Wednesday night's game.
The fracture is nonunion, which means the bone has not fully healed together. Surgery is an option, but given that he has not felt any discomfort with the hand as long as he stays on top of his exercises and treatment, Hill might forgo having surgery on it during the offseason.
"I talked to [Dr. Don] Sheridan about it two weeks ago, just briefly, and we both said we'd just talk about it later," Hill said referring to the team's hand specialist. "It's up to me at the end of the day, but we'll worry about that later. We'll cross that bridge later."
Steve Gilbert is a reporter for MLB.com. Read his blog, Inside the D-backs, and follow him on Twitter @SteveGilbertMLB. This story was not subject to the approval of Major League Baseball or its clubs.