Corbin's gem lost amid Petit's dominance
Corbin's gem lost amid Petit's dominance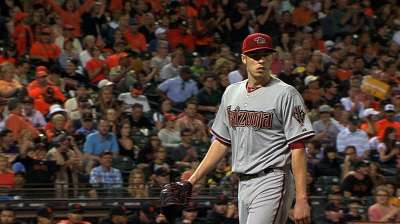 SAN FRANCISCO -- Manager Kurt Gibson liked what he saw from Patrick Corbin on Friday night.
The D-backs were watching Corbin closely to decide if the young left-hander needs a break. His previous two starts were subpar, and Gibson has been asked repeatedly whether fatigue is a factor due to so many innings pitched (190 2/3) this season.
On most other nights, Corbin's outing would have been good enough to win, except the D-backs almost fell victim to a perfect game by Yusmeiro Petit. Corbin allowed three runs on eight hits over eight innings. He walked one and struck out five.
Corbin led with his sinker like he usually does, but used the slider as his No. 2 pitch instead of the four-seam fastball.
"I just think he's locating better," Gibson said. "He made a couple of mistakes, but he's locating the ball better, getting it to both sides of the plate. He's throwing strikes to the inside corner to the righties. It just seemed like he had more arm speed. He's very comfortable out there."
Willie Bans is a contributor to MLB.com. This story was not subject to the approval of Major League Baseball or its clubs.