D-backs figuring out mix of shortstops
D-backs figuring out mix of shortstops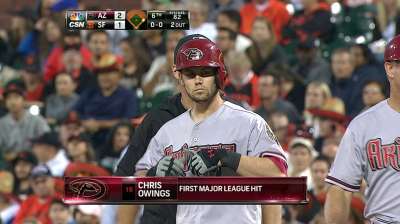 SAN FRANCISCO -- The Arizona Diamondbacks have a nice problem when it comes to shortstops. They are overloaded with them, from veterans Cliff Pennington and Willie Bloomquist to youngsters such as Didi Gregorius and Chris Owings.
Manager Kirk Gibson wants to use September as a way to filter the position.
"Everybody wants to play but not everybody can play," Gibson said Sunday. "We need to make decisions on who remains at that position in the future."
Bloomquist and Owings were in the starting lineup for the series finale against the San Francisco Giants. Bloomquist was in left field. Gibson was going to give Owings one day in the lineup this series, but has liked what he's seen from the rookie.
"I saw some good things from him," Gibson said. "I thought we needed to get him back in there."
As for Pennington and Gregorius?
"We know what Penny can do," Gibson said. "Didi played a lot early and is now trying to figure some things out. He's had a good stretch."
Pennington was scheduled to leave for Arizona after Sunday's game to be with his wife, who will undergo induced labor Monday.
Rick Eymer is a contributor to MLB.com. This story was not subject to the approval of Major League Baseball or its clubs.