Gibson tossed after reversed call at first
Gibson tossed after reversed call at first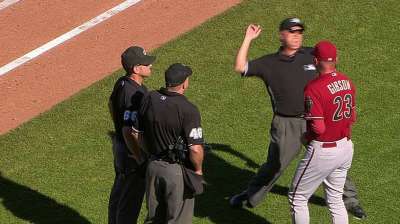 SAN FRANCISCO -- Arizona manager Kirk Gibson went 0-for-2 in his dealings with umpire Tom Hallion during the D-backs series with the San Francisco Giants.
Gibson was ejected from Sunday's 3-2 loss to the San Francisco Giants following the top of the 10th inning. It was his second ejection of the series, both by Hallion, fourth of the season and 13th of his career.
The D-backs had runners on first and second with two outs when Aaron Hill hit a grounder that first baseman Buster Posey bobbled, but he was able to recover and underhand the ball to pitcher George Kontos.
Hallion first called Hill safe but agreed to discuss the call with his crew and reversed it afterward.
Replays showed Kontos nicked the base, though he did need to make a second attempt at it as Hill was bearing down on him.
That brought out Gibson, who proceeded to talk himself into another ejection from Hallion, who threw him out of the game for arguing a call at home Thursday.
"I questioned why he changed the call," Gibson said. "He didn't want to hear about it, so I got thrown out."
Rick Eymer is a contributor to MLB.com. This story was not subject to the approval of Major League Baseball or its clubs.