Towers hasn't heard any player complaints
Towers hasn't heard any player complaints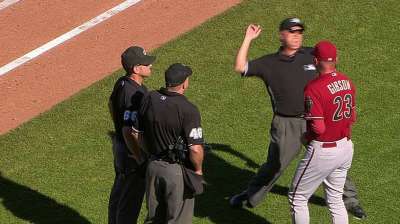 LOS ANGELES -- D-backs GM Kevin Towers was taken aback by a recent report by FOX Sports' Ken Rosenthal that said that some D-backs players were unhappy with Arizona manager Kirk Gibson's lineup changes and related better to third-base coach Matt Williams.
Towers said he was surprised when Rosenthal called him for a comment.
"That's news to me," Towers said. "I haven't had any players come to me and I haven't heard that."
Towers has maintained his support for Gibson and said the responsibility for the club not fulfilling expectations falls on everyone's shoulders.
"Everyone wants to start pointing blame," Towers said. "When people say that they should speak up and put their name next to it. If that was the case and players are unhappy they should approach me or approach Gibby. They don't need to be running to [the media]."
Steve Gilbert is a reporter for MLB.com. Read his blog, Inside the D-backs, and follow him on Twitter @SteveGilbertMLB. This story was not subject to the approval of Major League Baseball or its clubs.